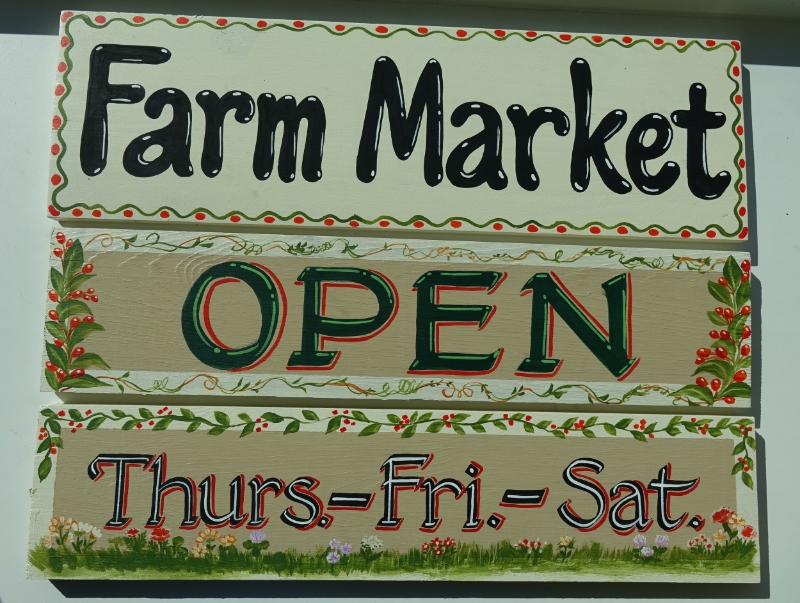 "Menus with Personality..."
A "Drinks" menu, clearly separating the Hot and the Cold Drinks, helps you choose the perfect beverage to accompany that warm, fresh, bakery treat you've picked out.
"Were you speaking to me?"
Yes...that yellow "word balloon" speaks directly to you, the hungry Bakery patron! My menus highlight and illustrate the various Lunch items to help you find and personalize your order. Bon Appetit!
A Closer Look
A rooster heralds daybreak, with a sunrise that looks a lot like a fresh country egg...you are invited to "Break the Fast" with your selections from a clearly organized Breakfast menu. Choose from a variety of Bagels & Cream Cheese, Egg Sandwiches and fresh-from-the-oven Rolls.
Yes, the LOGO is hand-painted...
...Hand-painted in the "Flower Cooler Case," as a matter of fact, twenty minutes at a time in the cold, with time in-between to thaw my frozen fingers!
A Professional Display for a Professional...
Diplomas and Certifications, professionally and attractively displayed, give confidence and reassurance to Dental patients entering the offices of Dr. Rajdeep Sandhu, of Germantown Dental Services, Germantown, MD.
A Touch of Whimsy...
In BuddyLou's of Hancock, Md, (an already whimsical Restaurant/Antique Store/Gift Shop, delightfully decorated with Over-the-Top Imagination), I painted a curious hen peering into a letter "U" on an "Antiques" sign.
"Come on in..."
"The food is fine!" Signs on Main Street, Hancock, MD invite you to BuddyLou's Sunday Brunch.
"B" is for "Boys"...(or Buddy)
At BuddyLou's in Hancock, MD, the Men's Restroom is designated with a Top Hat perched on a "B".
"L" is for Ladies...(or Lucy...er, Lou)
Whether or not "L" is for Ladies' Room, the hat with roses and ribbons is a "Broad Hint"...(pun intended).
In Case of Emergency...*wink, wink*
In case of emergency, (see "floating eyeballs"), use whichever Restroom is free...(it's OK.)
Bat Mitzvah celebrant...
For a young lady named Sophie, celebrating with an Art theme, I used the font her family provided and created this 24" X 30" centerpiece for the placecard table.
"Don't hate me because I'm beautiful..."
It just seemed to fit this coy Boer Goat...
This is one of a series of 13 large, wooden Cheese boxes I am painting, each one a different design.
(Boer Goats were on my mind after a casual remark from a woman I met at Lewis Orchard Farm Market in Dickerson, MD, where I was buying the Cheese Boxes. It seems that those who raise Boer Goats are often fiercely loyal to the breed, as she was.)
The Montgomery County, MD Agricultural Fair...
One of the delights of the Fair is the Dairy Bar, run by the Lions Clubs of the County. It never fails--those volunteers have a HEAVY HAND when dipping out the ice cream! I painted the mural inside the Dairy Bar as well as this sign that hangs on the Fairway.
SCRAPBOOKING IS BIG!
Every winter, when cabin fever threatens, Pam Giganti hosts a huge Scrapbooking Workshop Extravaganza Weekend at the Gaithersburg, MD, Holiday Inn. This 2-sided chalkboard/sandwich-board announces the theme of the weekend, and the location, in the ballroom. (I told you it's BIG!)
"Camouflage" for a Port-a-Potty
The "facility" in question was "too visible" to diners on an upper deck at "BuddyLou's Eats, Drinks & Antiques", in Hancock, MD. This old door, painted in whimsical fashion, mounted on wheels, is wheeled into position to hide the undesirable cubicle.
Mascot of the North Market Pop Shop
This handsome little Polar Bear with the 4' tall ice cream cone sits outside the NM Pop Shop in Frederick, MD on sunny days. It seems he had been "abused" by persons unknown and had lots of scrapes, holes and cracks. After coming to "Kitty's Polar Bear Hospital" he is now spiffed up, repaired, completely re-painted and good as new!
Pop Shop Polar Bear...
Isn't he a cute little guy?
Sandwich Board inviting you in...!
The artwork was pleasing, but badly faded. Here I have completely re-painted the original artist's work and added a border for a cheerful makeover.
The Little Red Hen Lives!...
And her name is Carol Rollman, owner of Sycamore Spring Farm CSA, or "Farmer Carol" to her patrons. This sign was painted just for her, a " Superwoman" who, as a farmer, really CAN do it all!
Signs for Sycamore Spring Farm, Frederick, MD
An antique ladder, outfitted with a series of hooks, will hold these signs. These are 3 of the first set of 9 signs I have painted for the Spring growing season.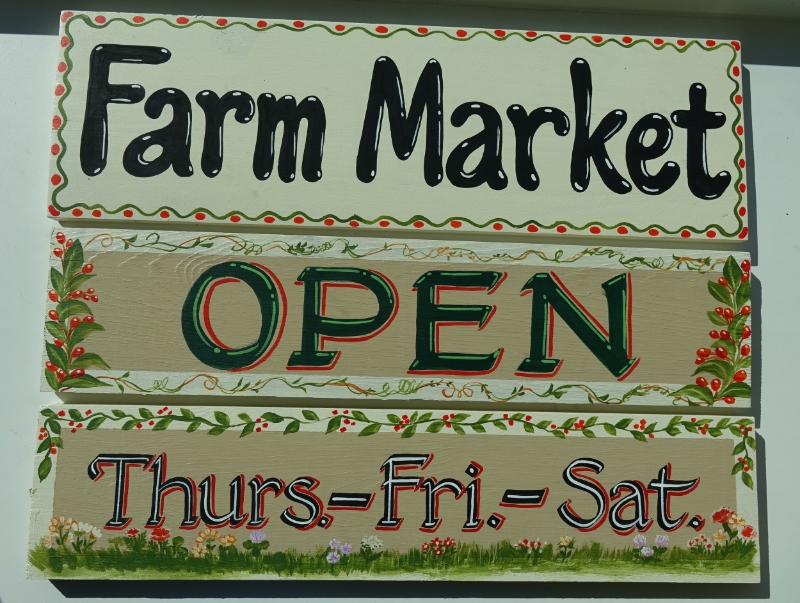 Sycamore Spring Farm Market signs
Farmer Carol favors the greens, golds, barn reds--earth tones. So I have used them in presenting the farm's offerings to the public.
Sycamore Spring Farm, Frederick MD
This farm claims, and daily practices, "No Harm Farming," "Beyond Organic," "Healthy Food from Healthy Soil", and more.