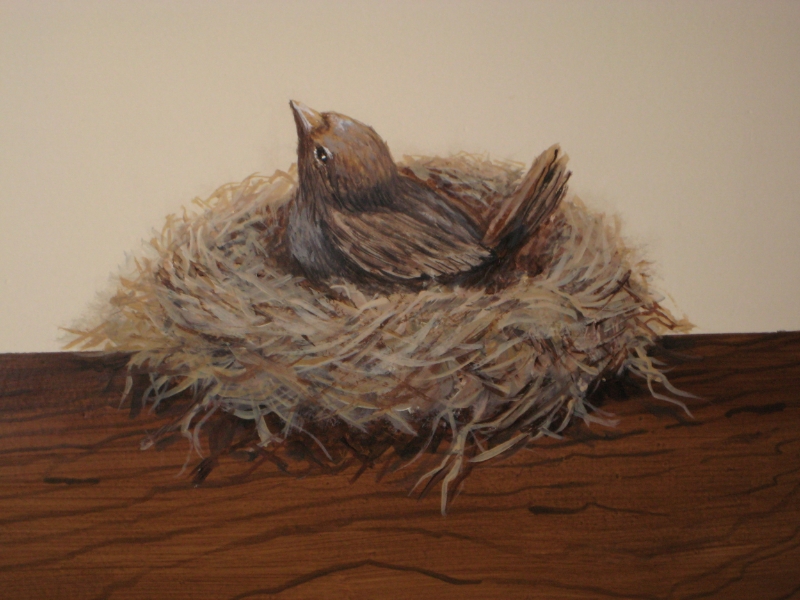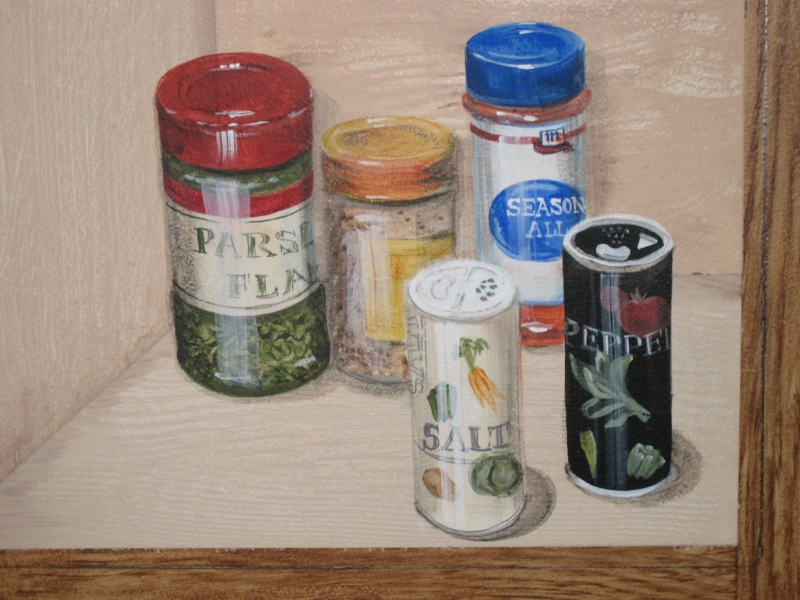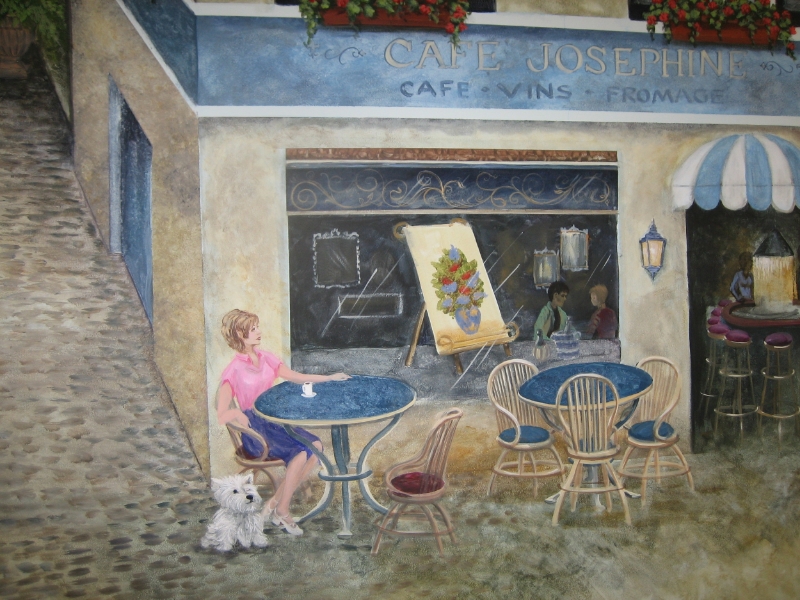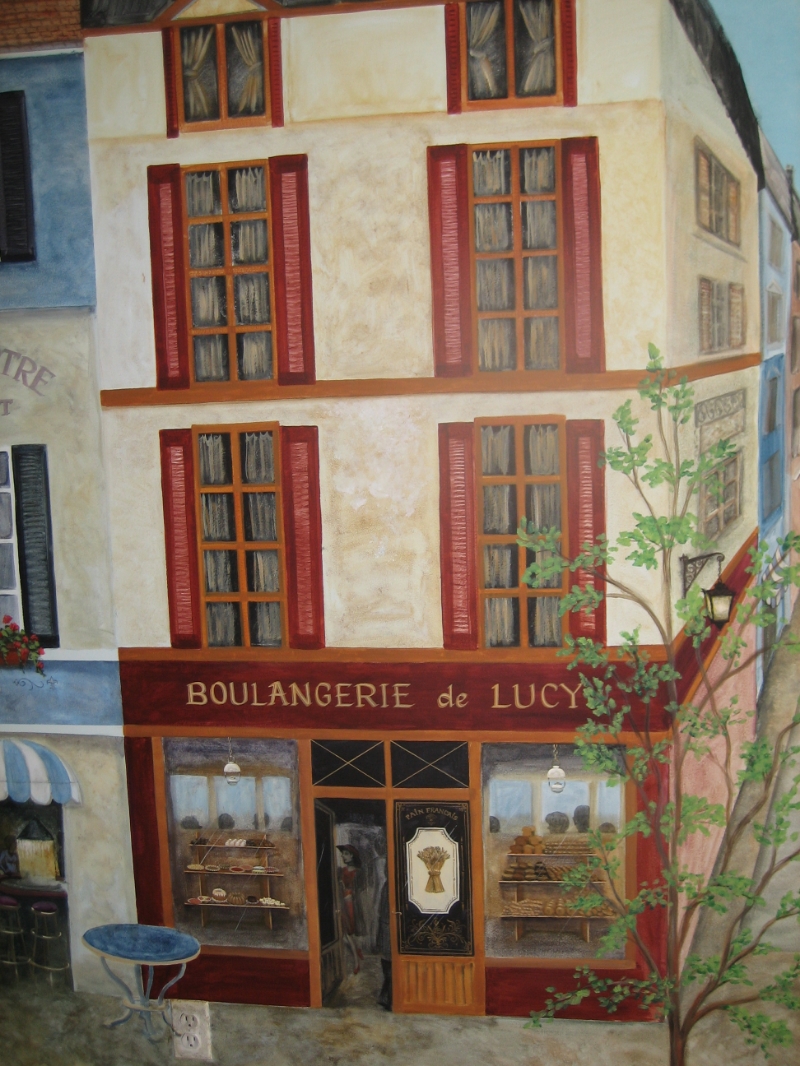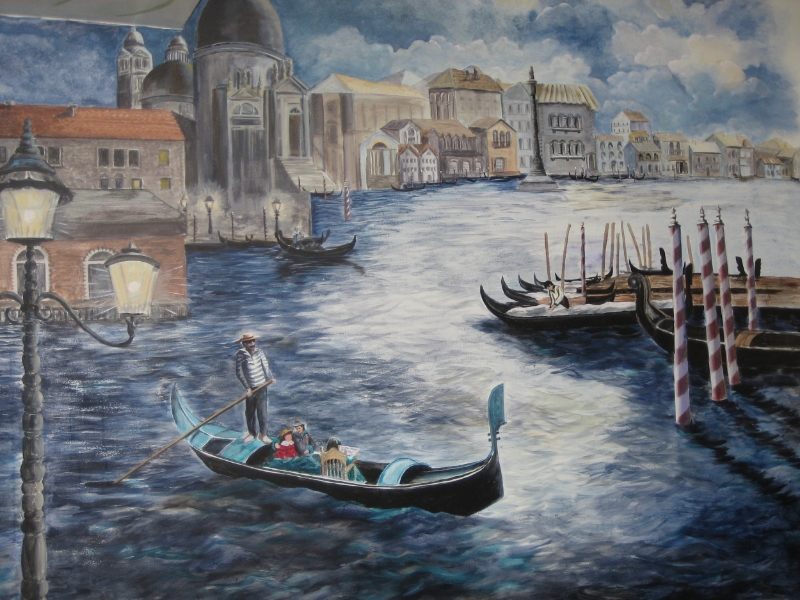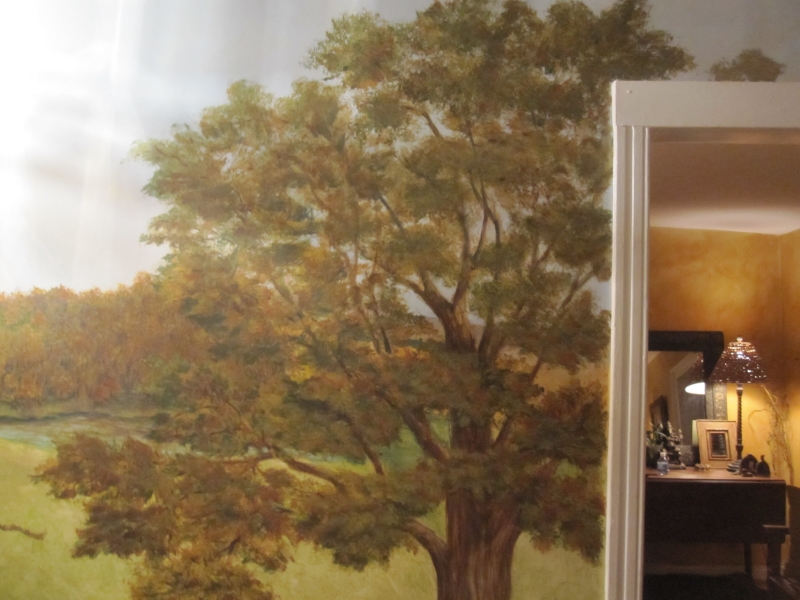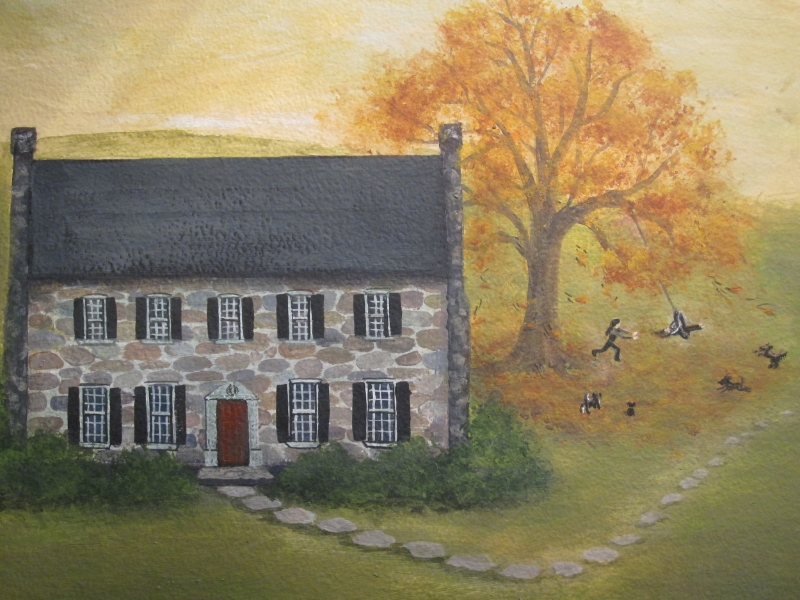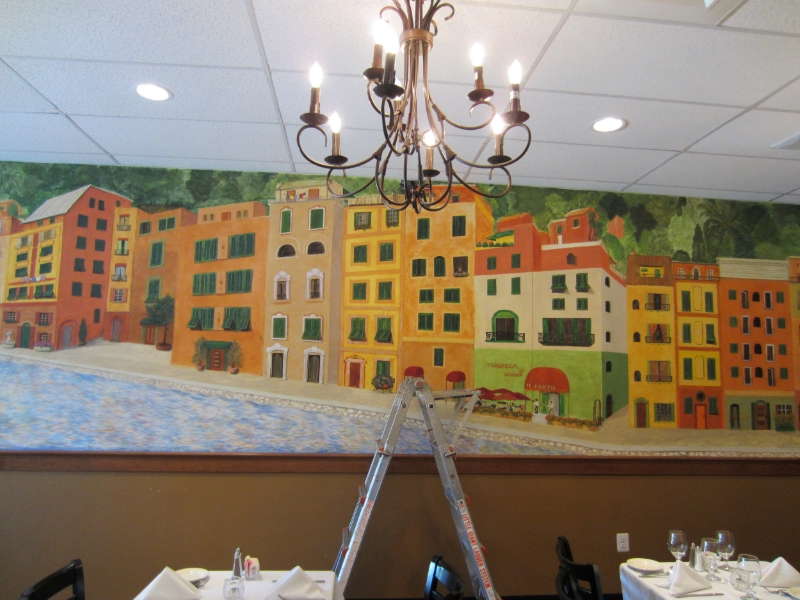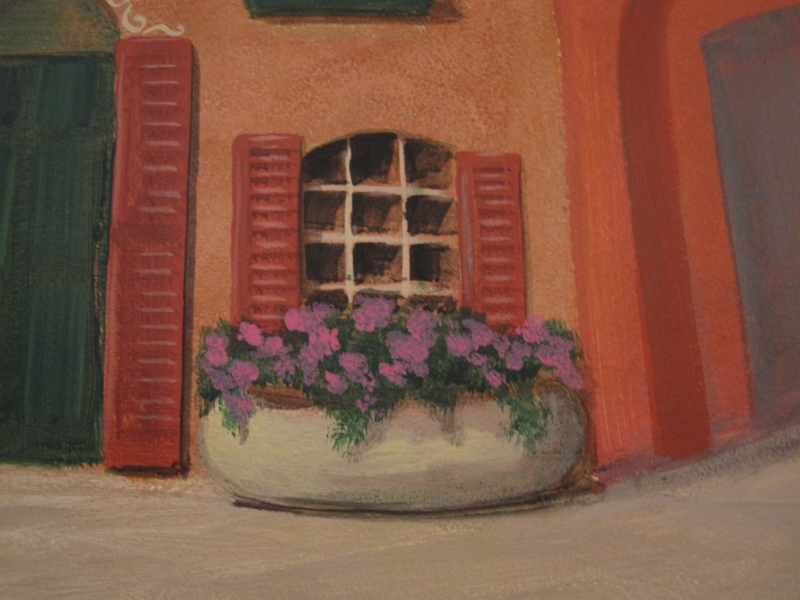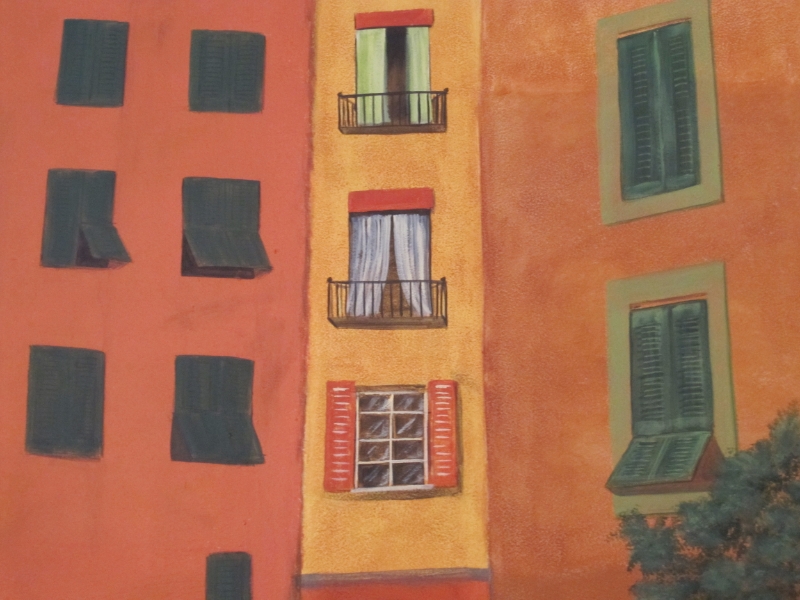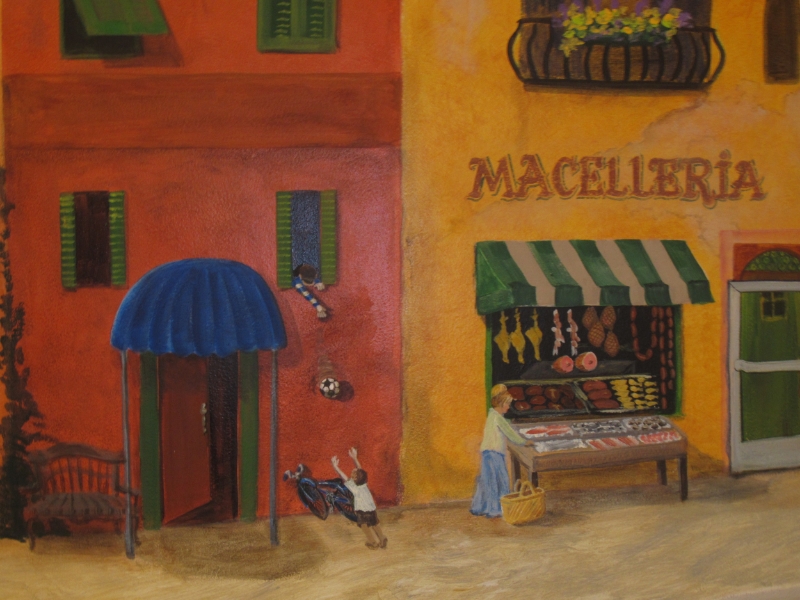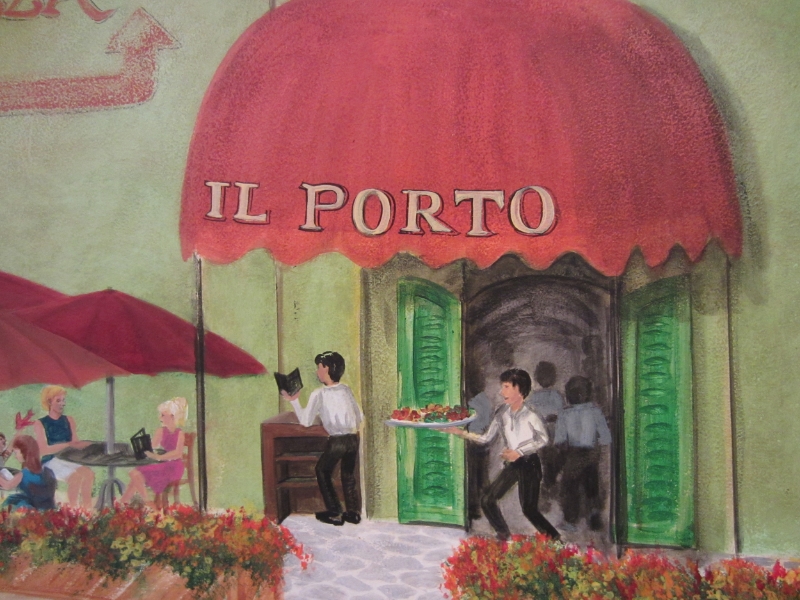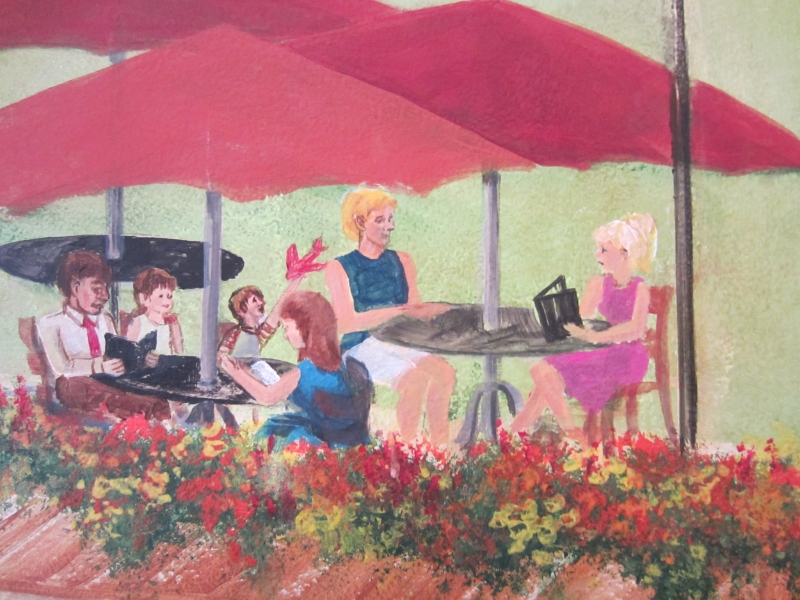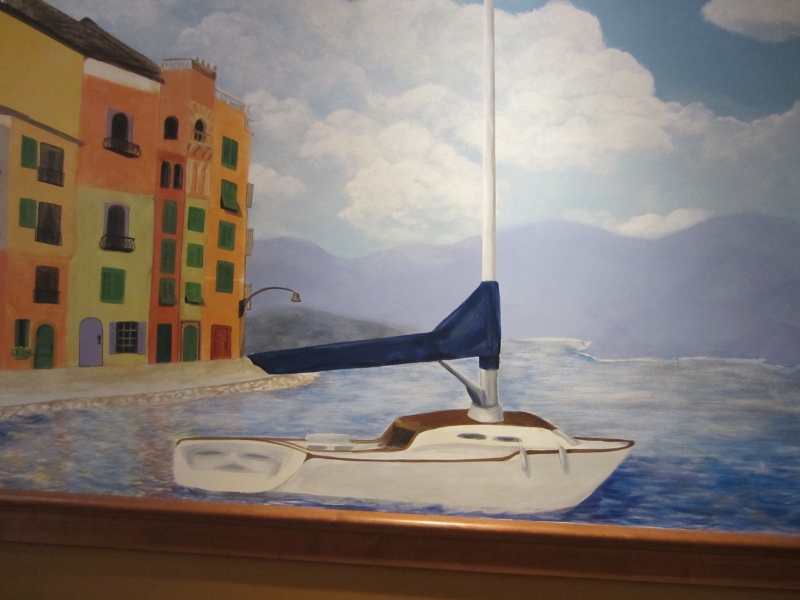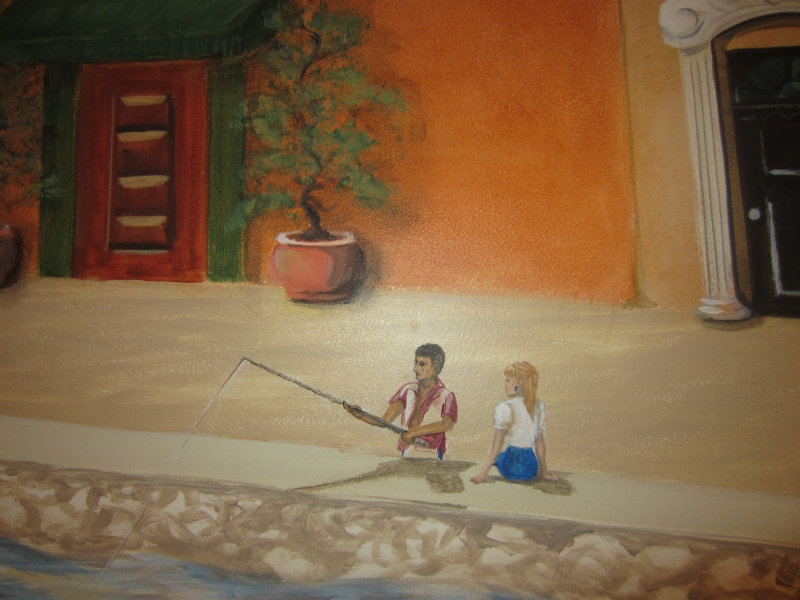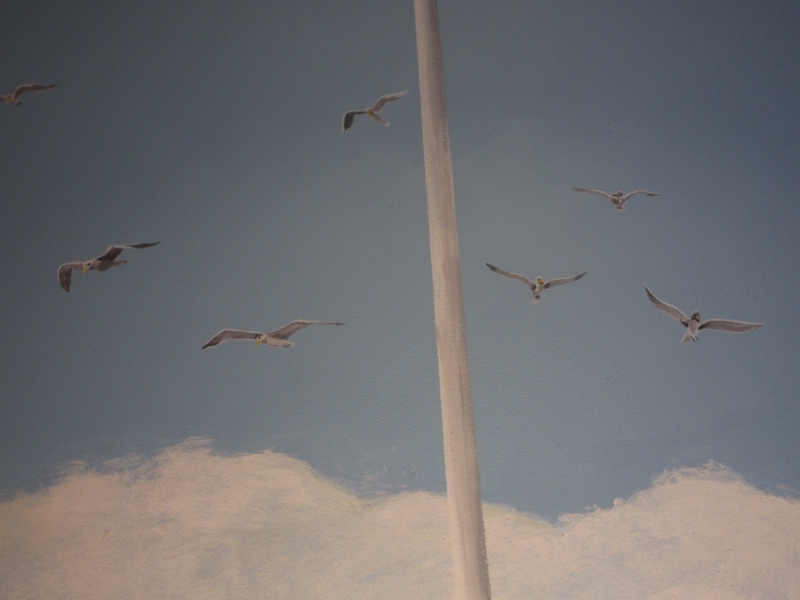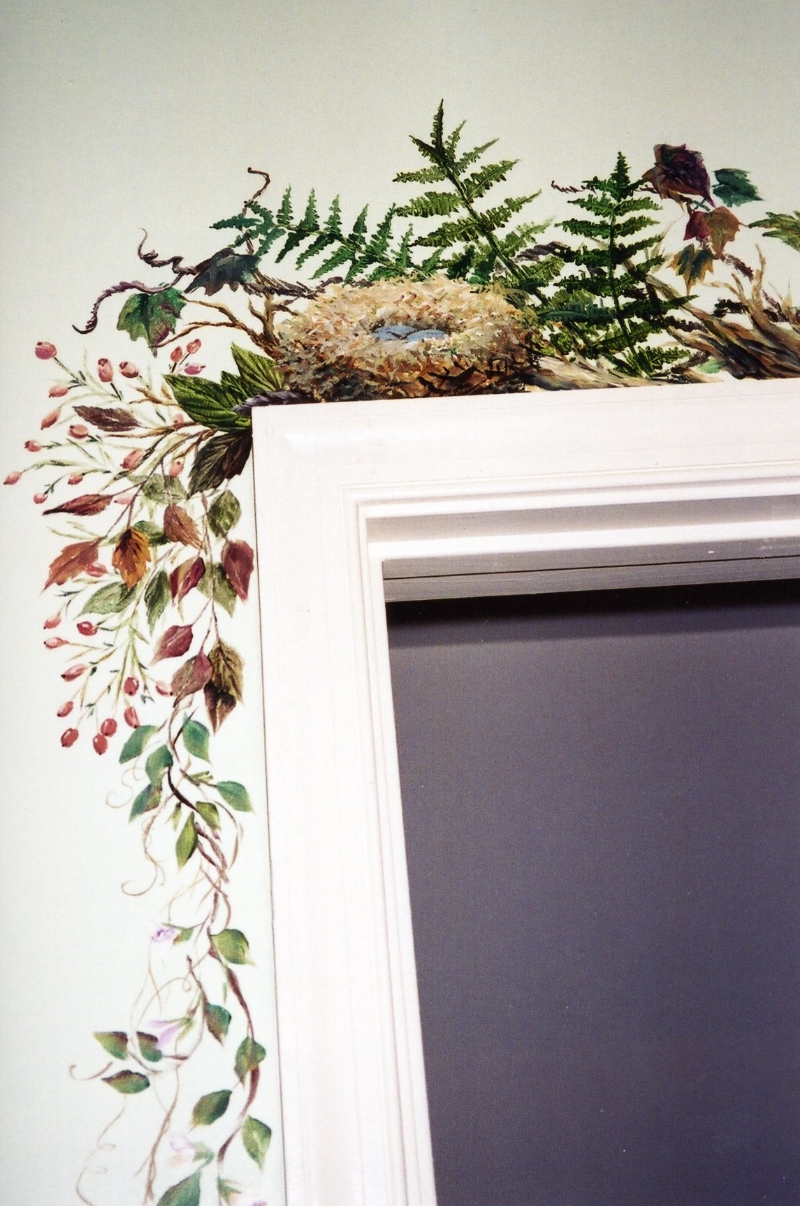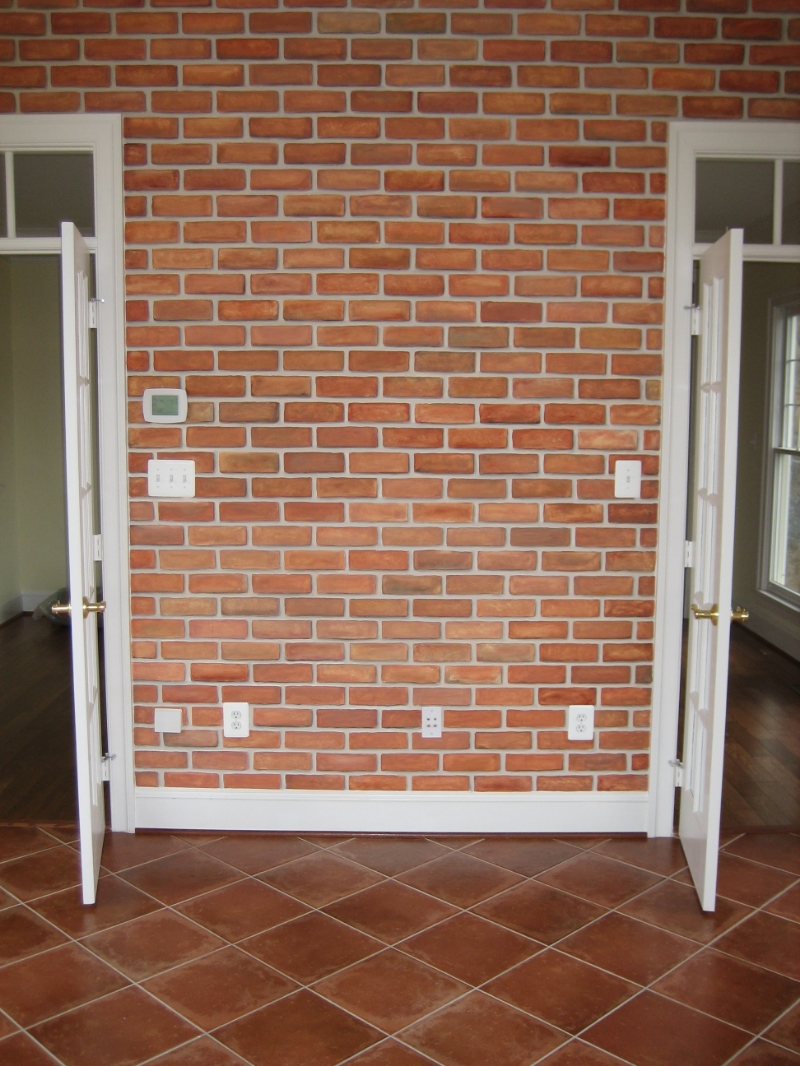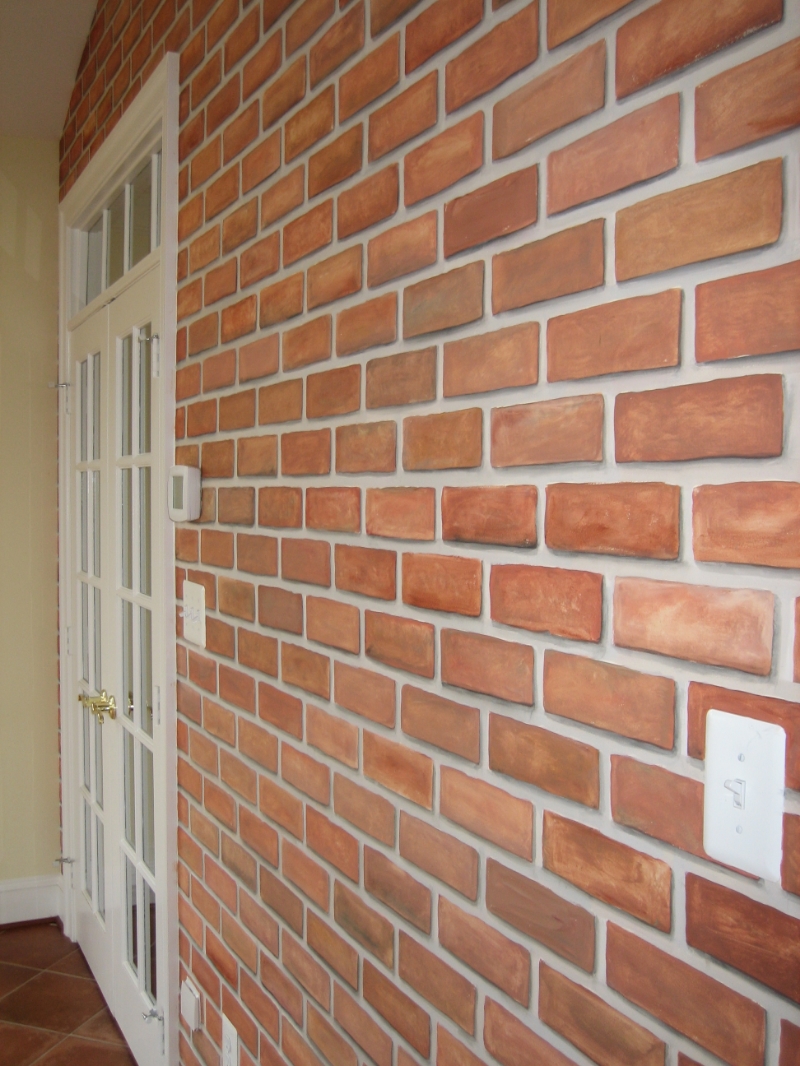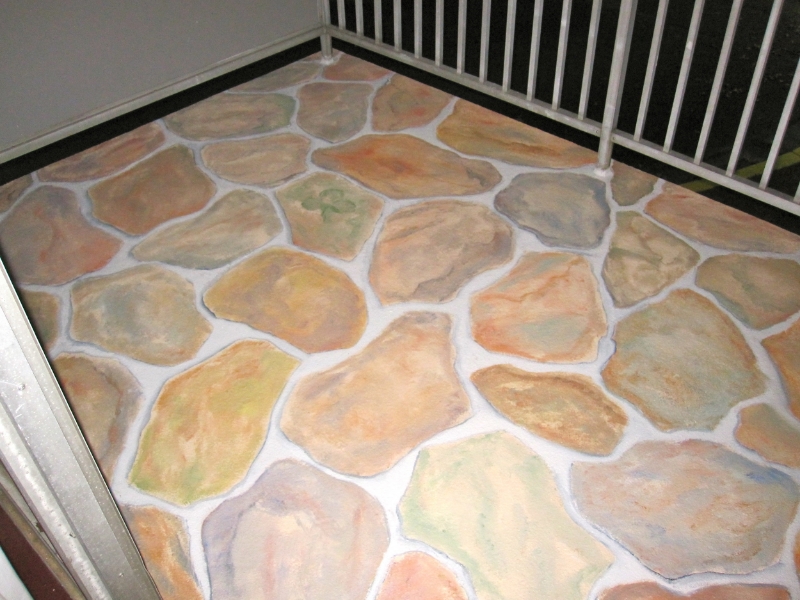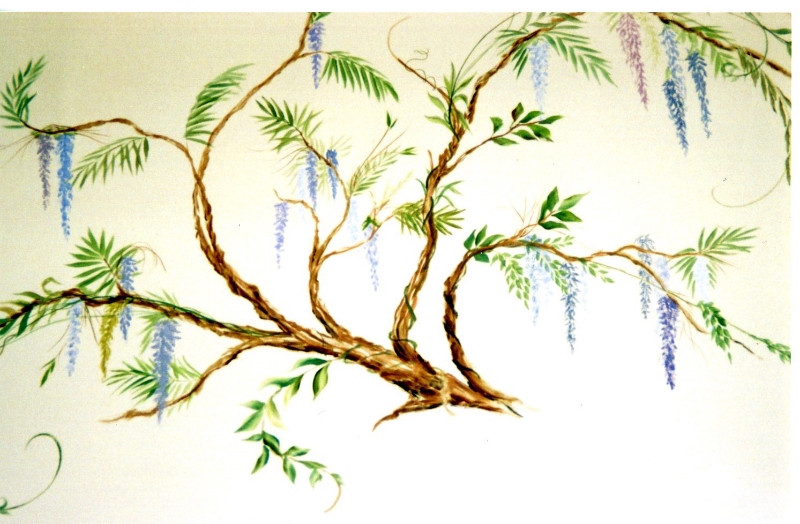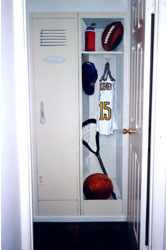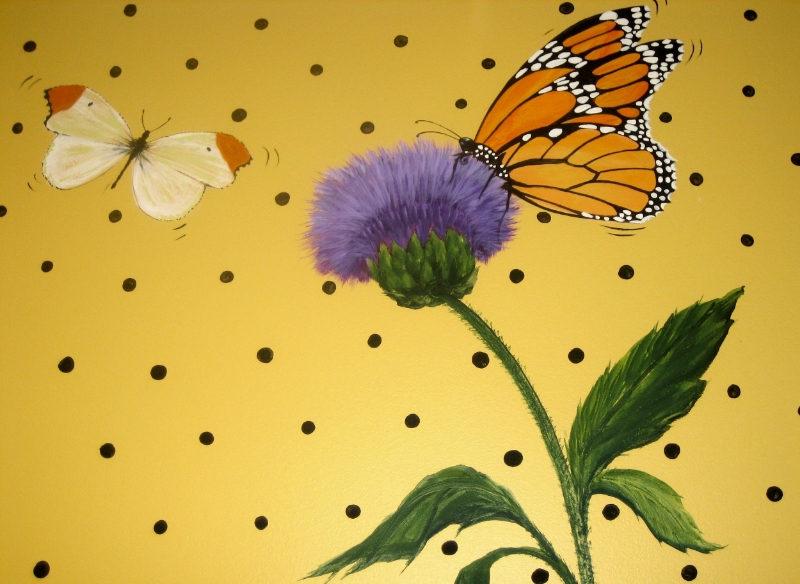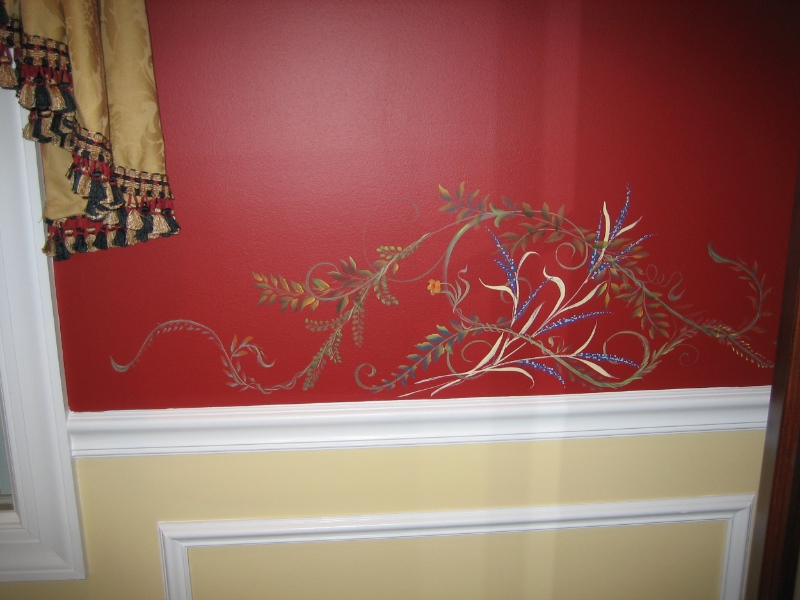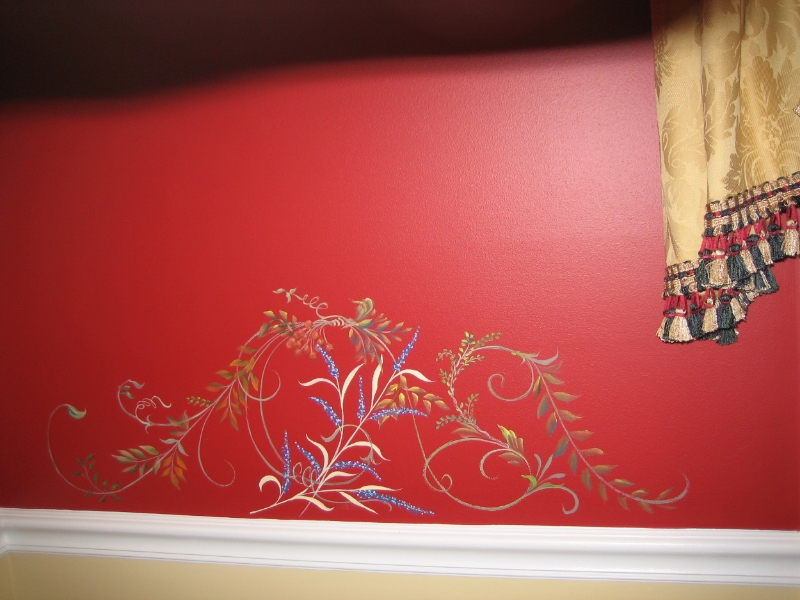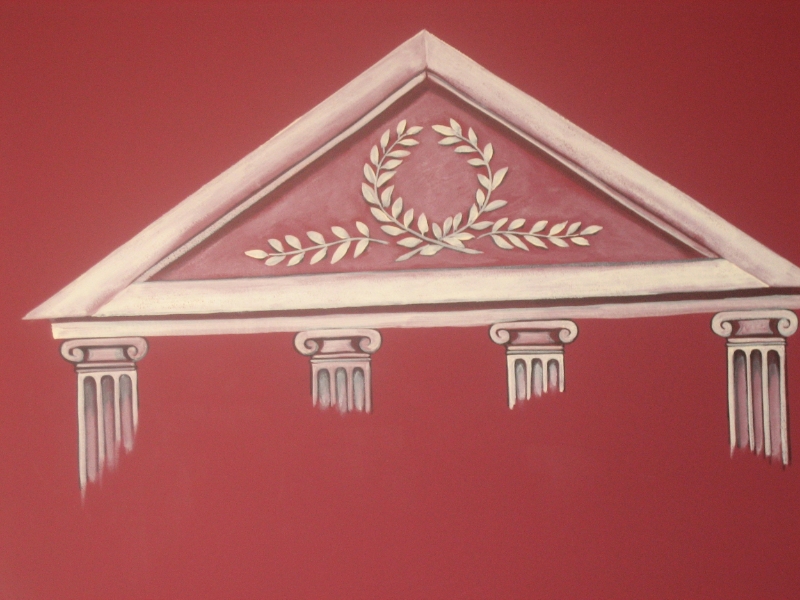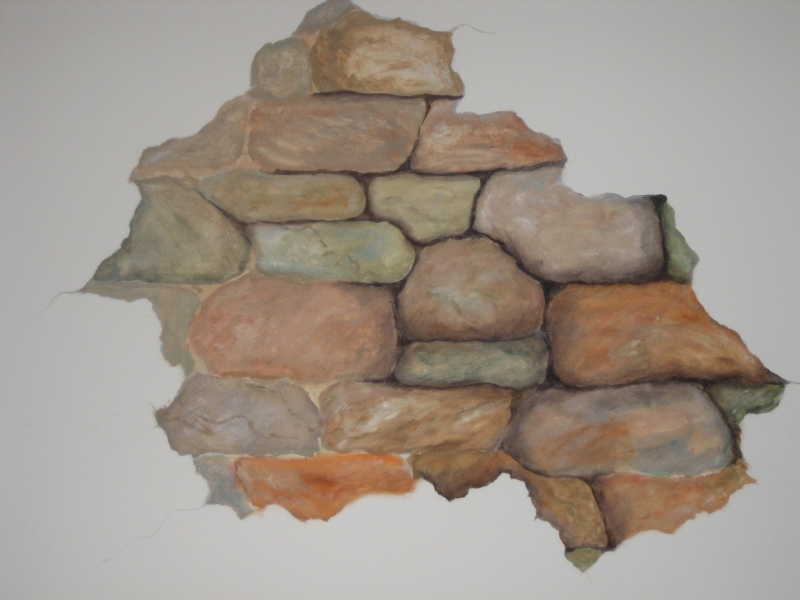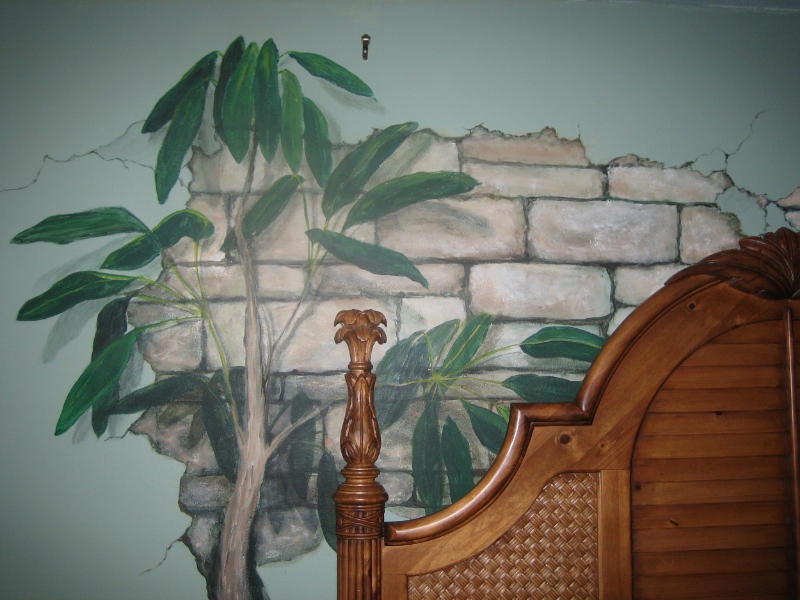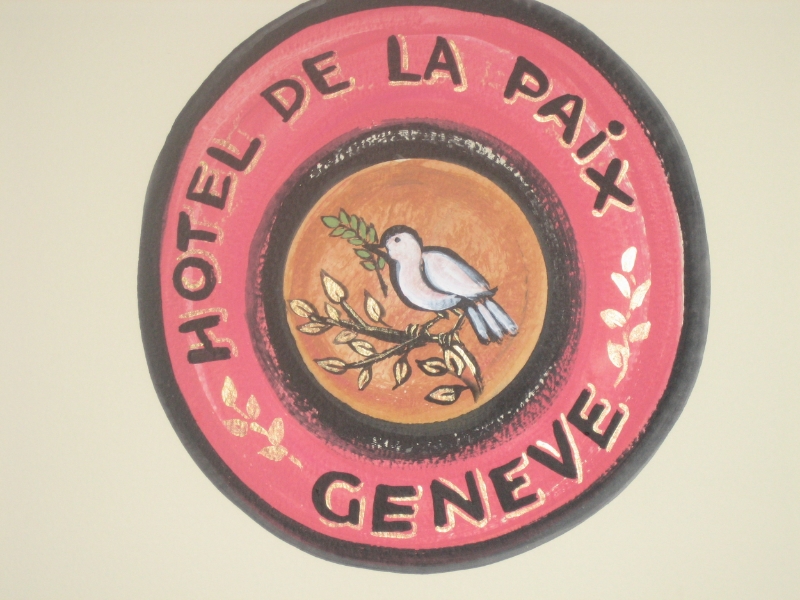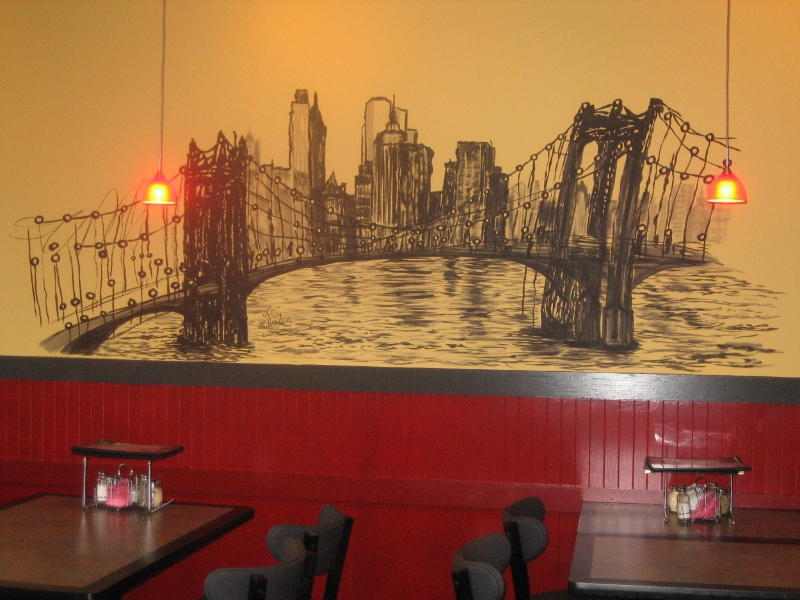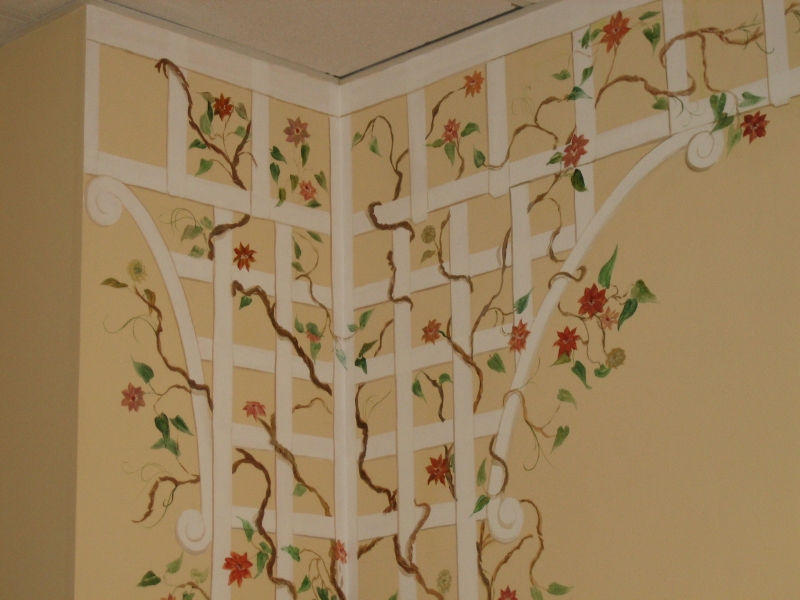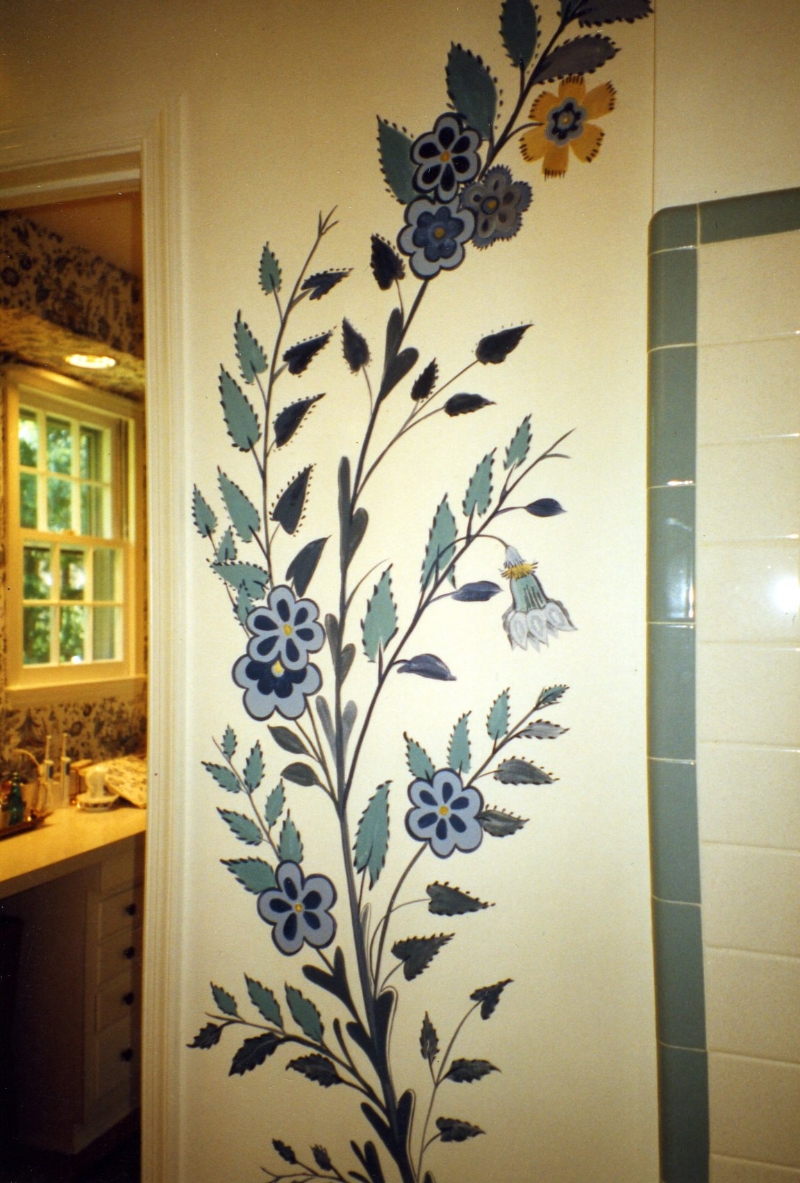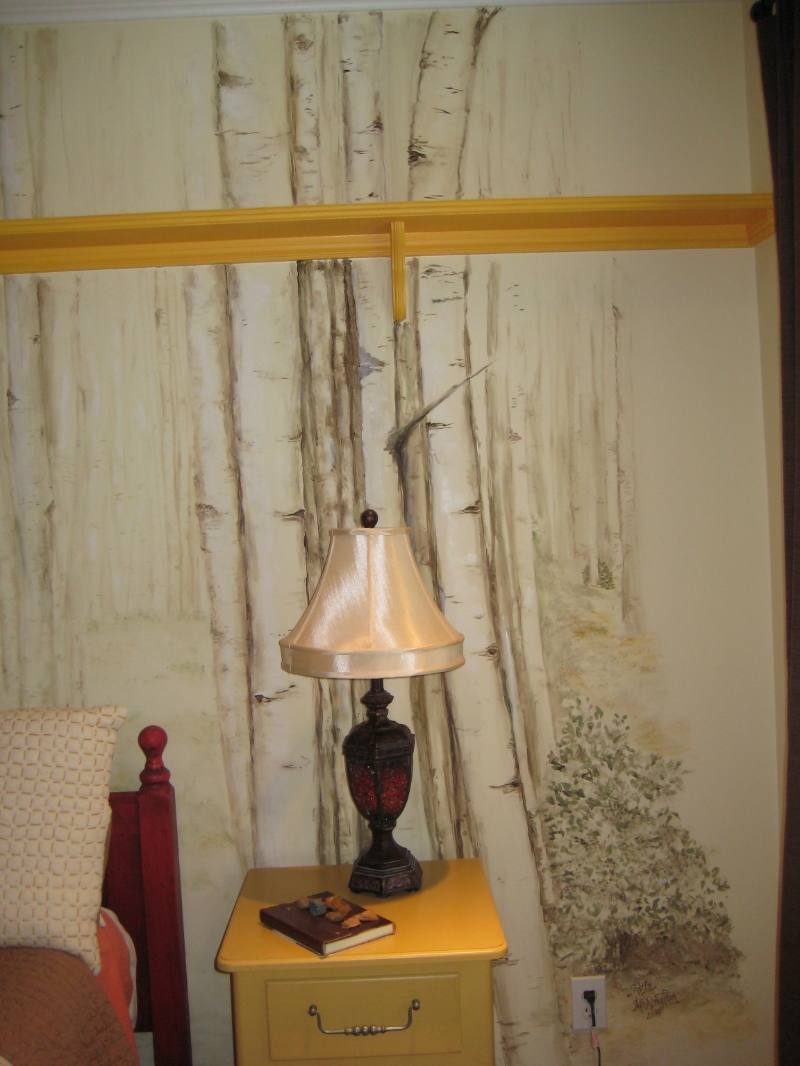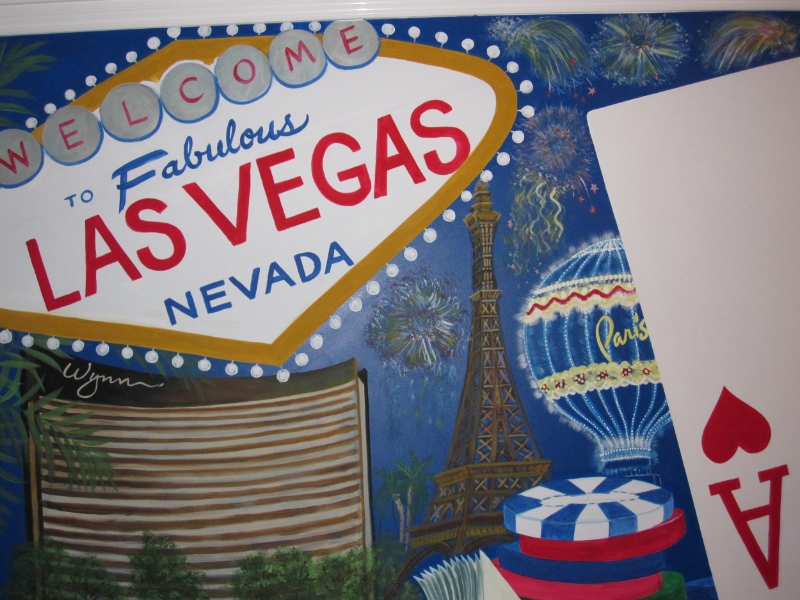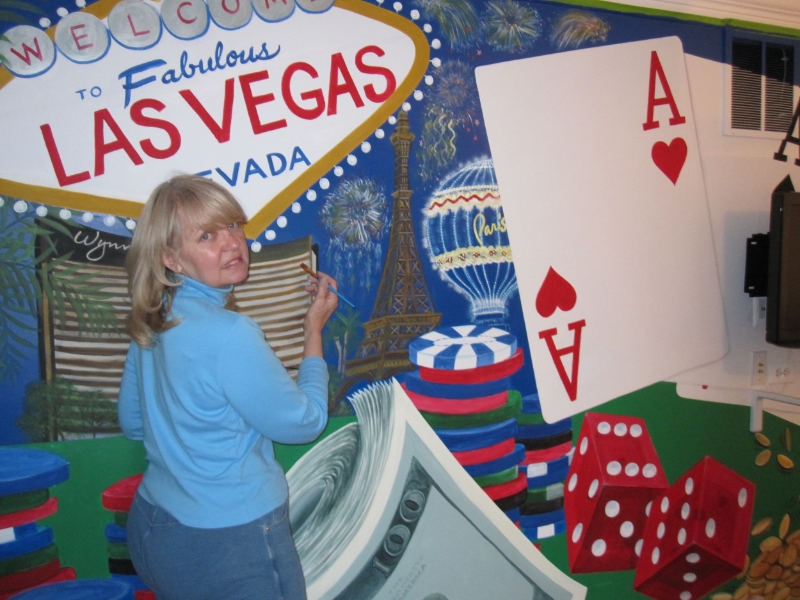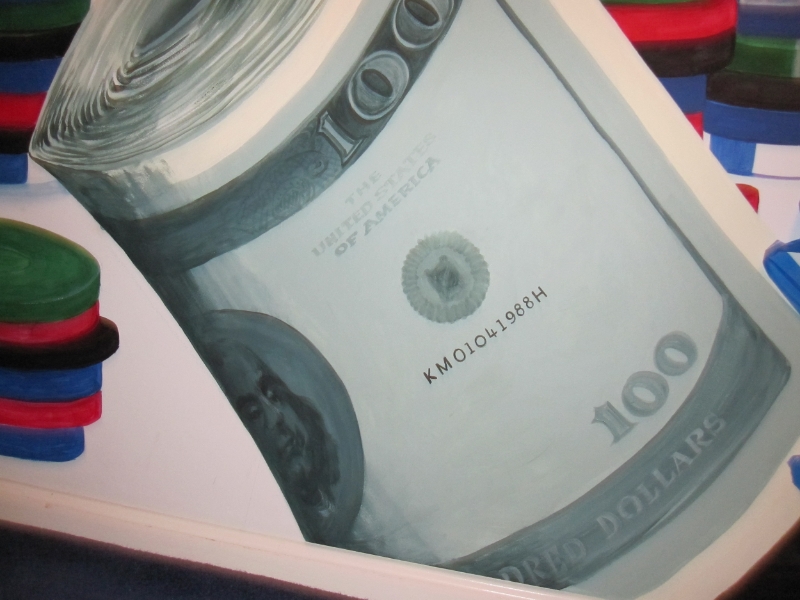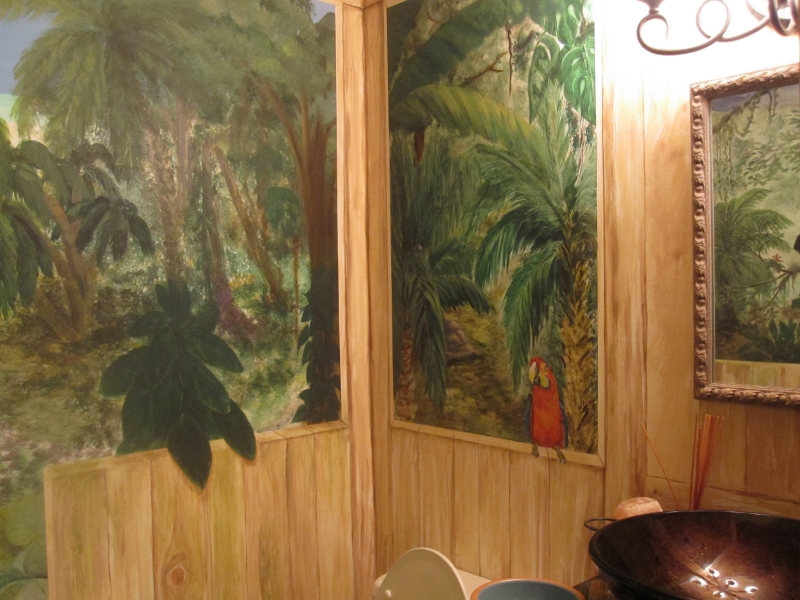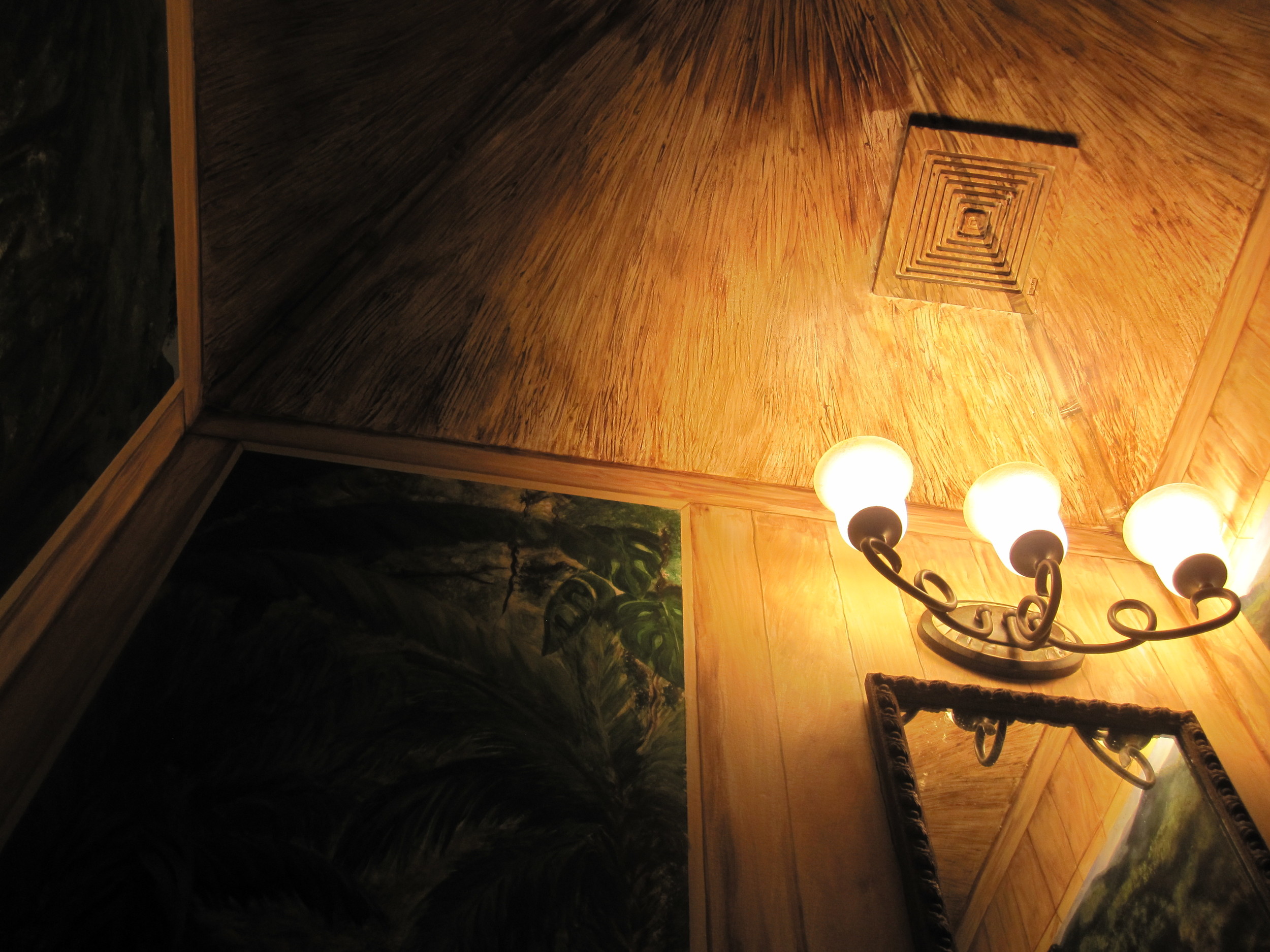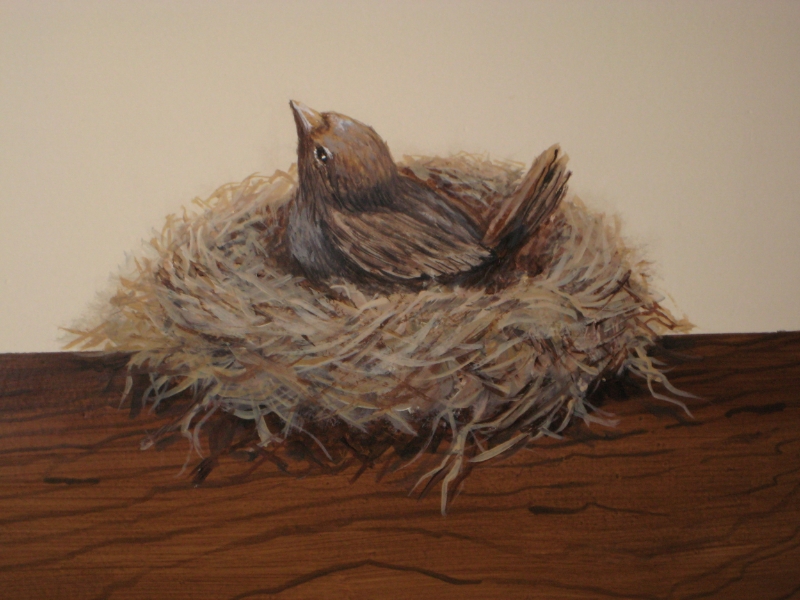 Bedroom Wildlife...
On a realistic-looking wooden headboard painted onto the wall, a bird in a nest keeps watch.
Trompe l'Oeil Cabinets in a party room...
Only the knobs and hinges are actually there...(the wallboard is cut and hinged to hide the electrical service panel).
Visiting Paris is easy for these Maryland residents, since it is right in the family room.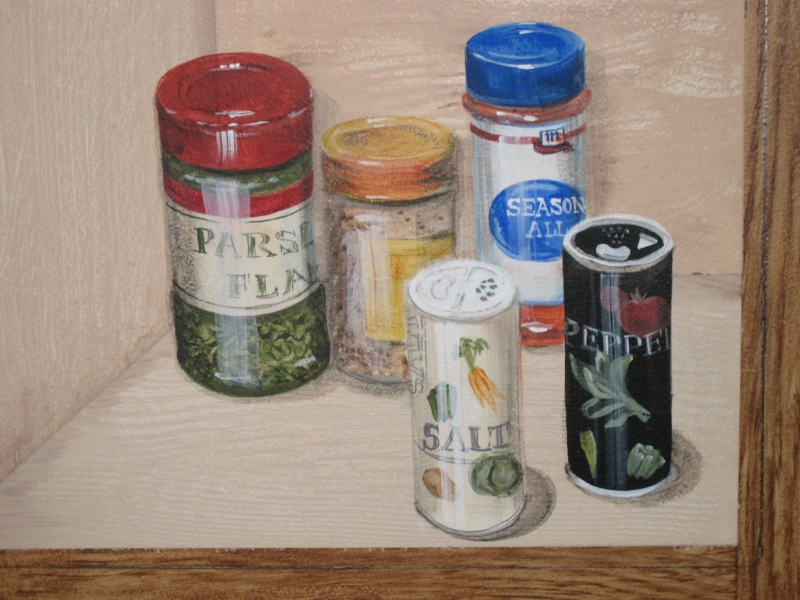 Adding spice to the party...
Trompe l'oeil spices in the trompe l'oeil cabinets.
She loves White Dogwood...
Here it adds elegance to a Powder Room.
A Spring Bouquet and a Hummingbird...
They never wilt, never tire, and add grace to a Guest Bathroom all year long.
Lilacs and Roses...
...spill from a painted niche.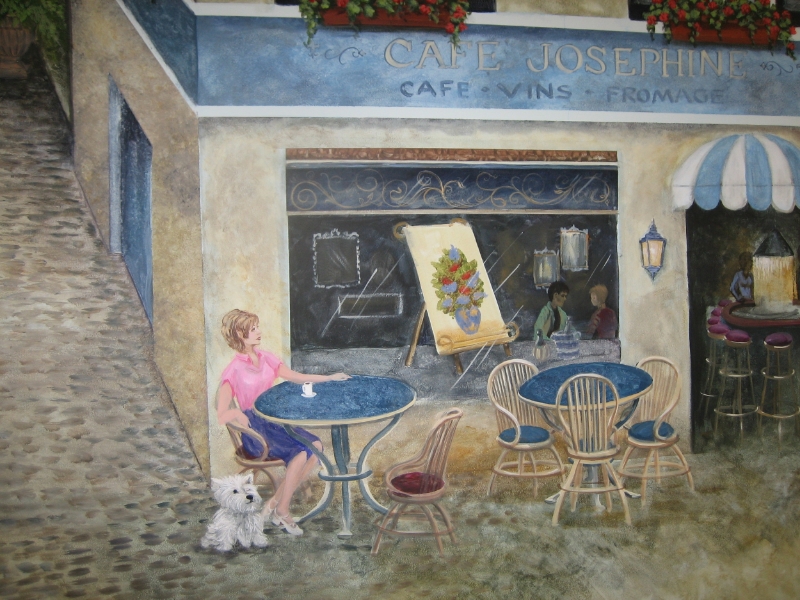 The homeowner's little Terrier enjoys an outdoor Cafe.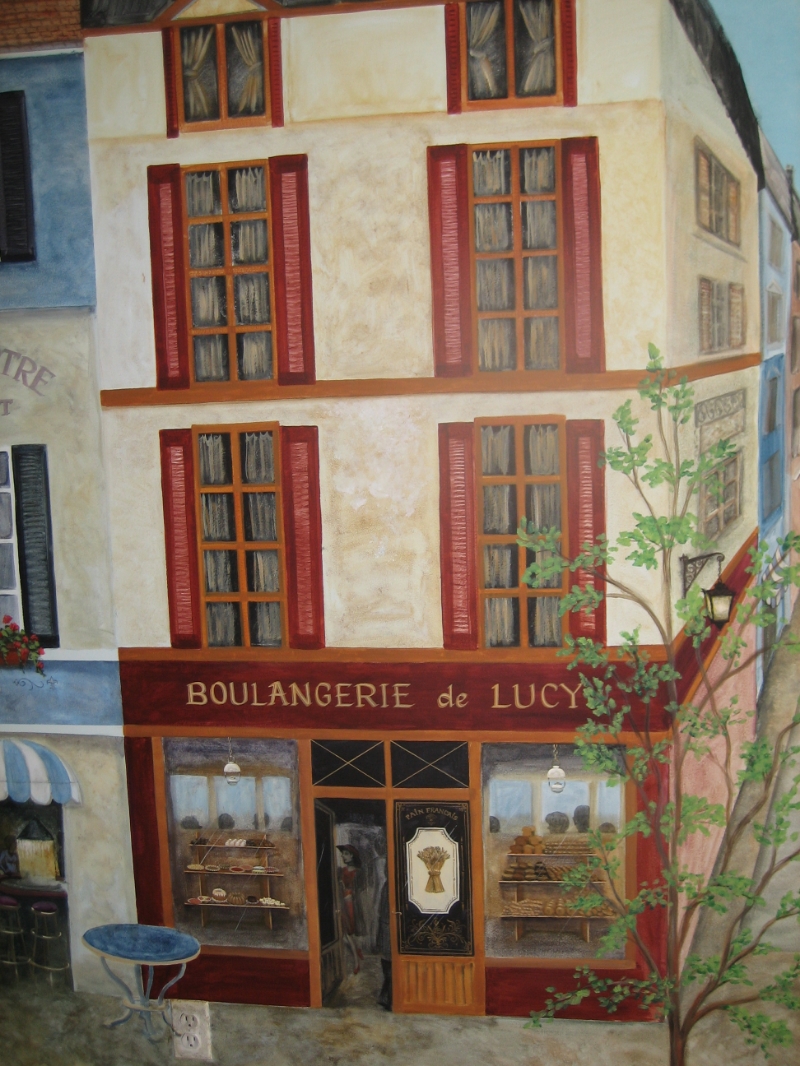 A crowded Boulangerie (Bakery) displays its goodies in the front windows.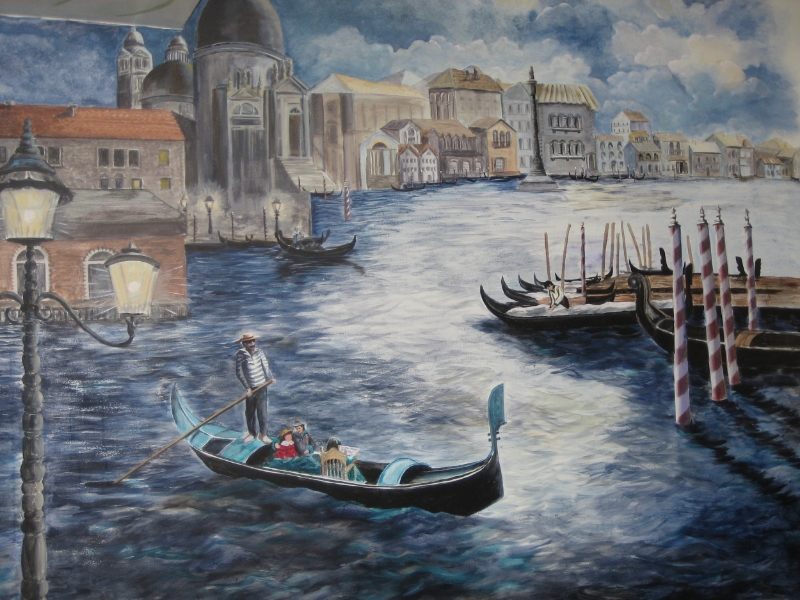 Moonlight in Venice
A couple's honeymoon in Venice inspired this mural over their Jacuzzi, in the Master Bathroom.
A Hunting Scene charges down the hallway...
...of an historic farmhouse in Jefferson, MD. Meanwhile, outside are a real pack of dogs and a real barn full of horses.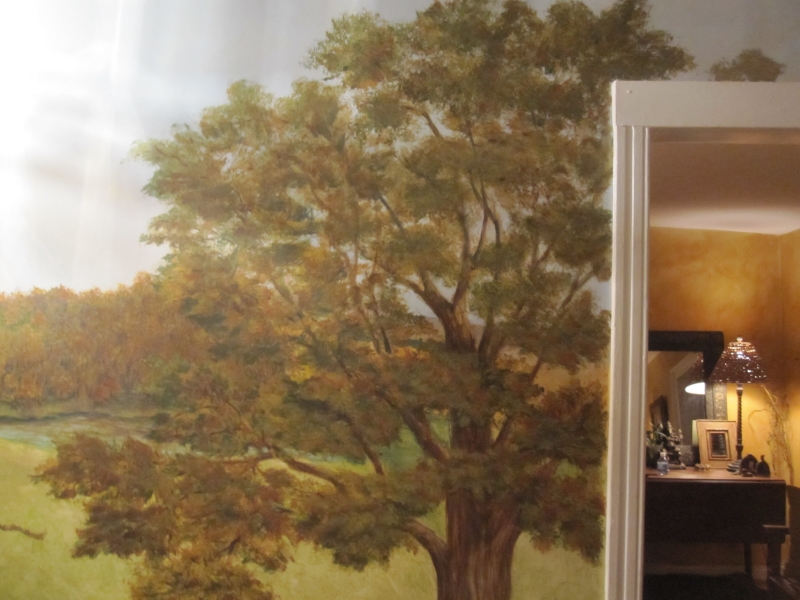 Further along the wall in this same farmhouse...
...a tree appears to grow around a door frame, bringing more of the outdoors inside.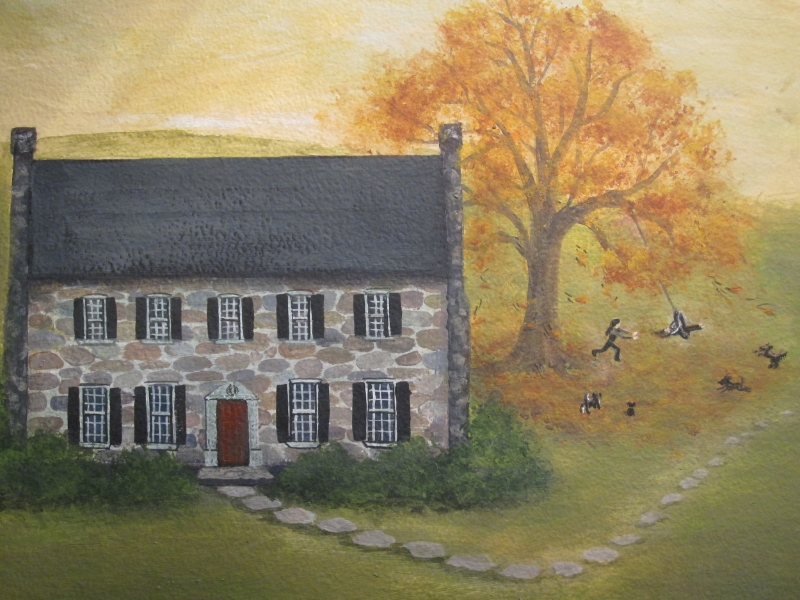 Close-up of a small detail in the hallway...
This was a small house, painted in the distant background of the hunting scene. Too much "civilization" in an otherwise pristine "wide-open hunt country," I subsequently painted it out at the owner's request.
A Wine Cellar with more "presence..."
When one has a home and vineyard in Napa, and one's own wine label, the East Coast home needs a wine cellar with more presence. So the handmade Redwood door was expanded with a trompe l'oeil frame and fanlight, and the rock wall, niche and grapevine were also painted.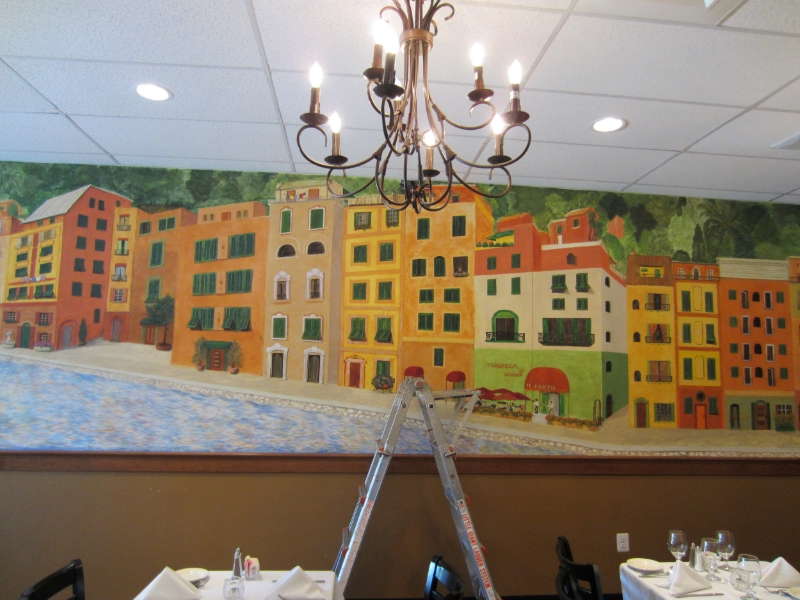 Scenes of Portofino, Italy
When you own a restaurant named "Il Porto," one of your murals MUST depict Portofino, to bring atmosphere and ambiance to the space, for the diners' pleasure.
This shows the 43.5 foot mural in progress, with the ladder only present during the day, before dinner patrons were seated in the room.
"Show the Character of that lovely old city..."
This and several more photos show small scenes from the finished mural, painted, as requested by the owner, Mr. Alberto Cruz.
"Show the aged walls, the paintings on walls, the flowers trailing from balcony boxes..."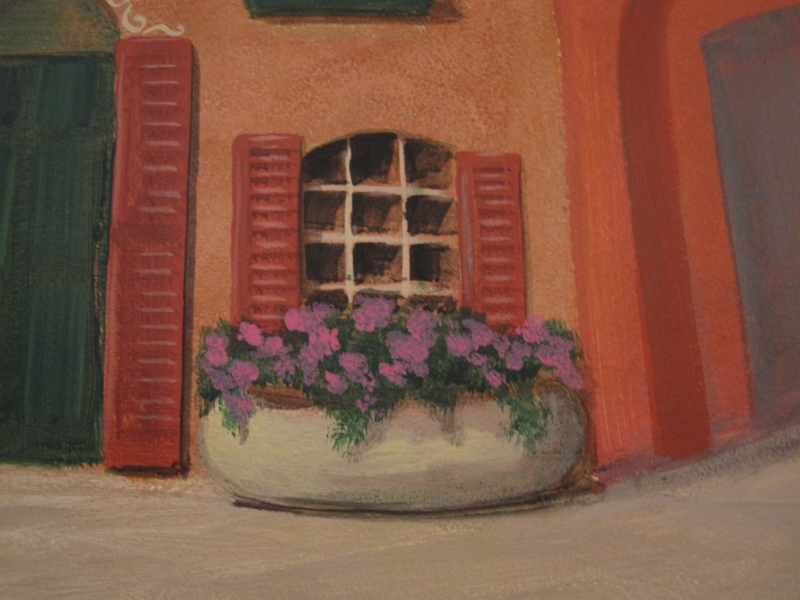 "show the gardens placed wherever there was space..."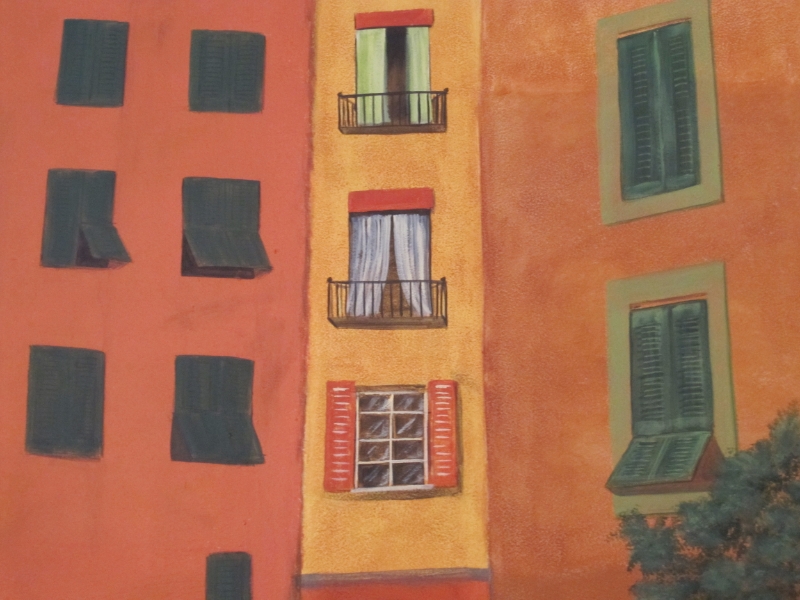 "show balconies and louvered shutters, propped open to catch the breezes..."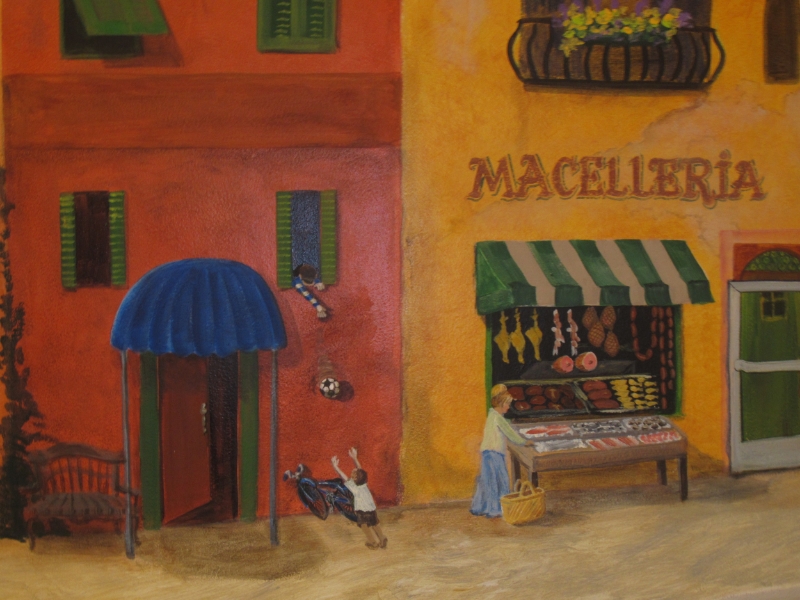 "I want to see children playing, laundry hanging from balconies, and people shopping..."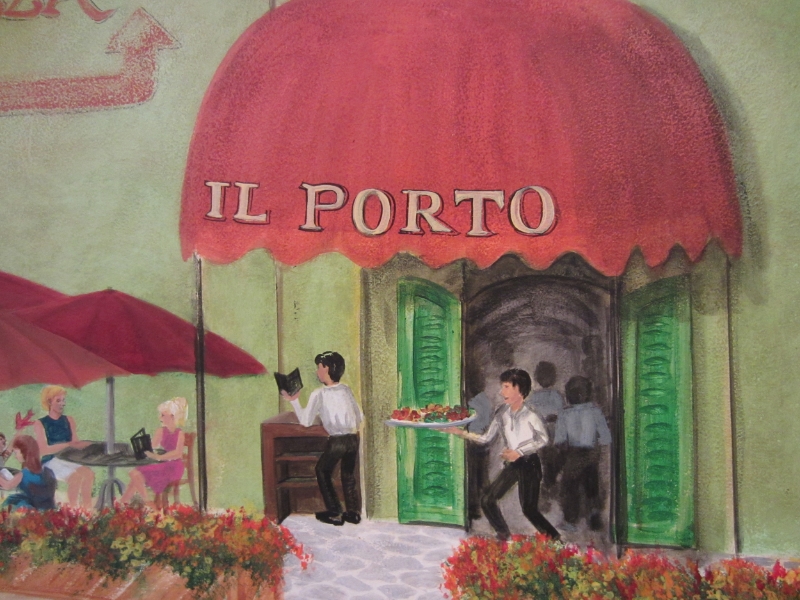 I imagined, and painted for him, a branch of his restaurant in Portofino...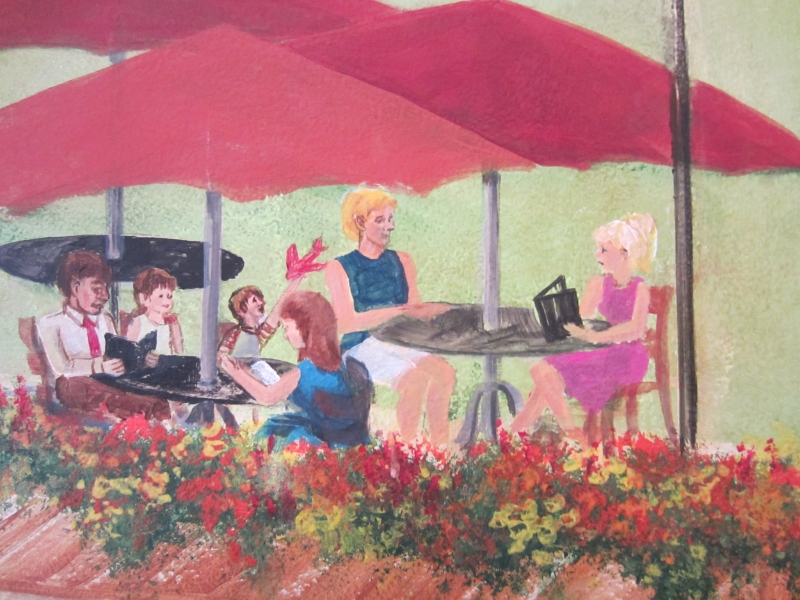 ...complete with people dining on a flower-filled patio.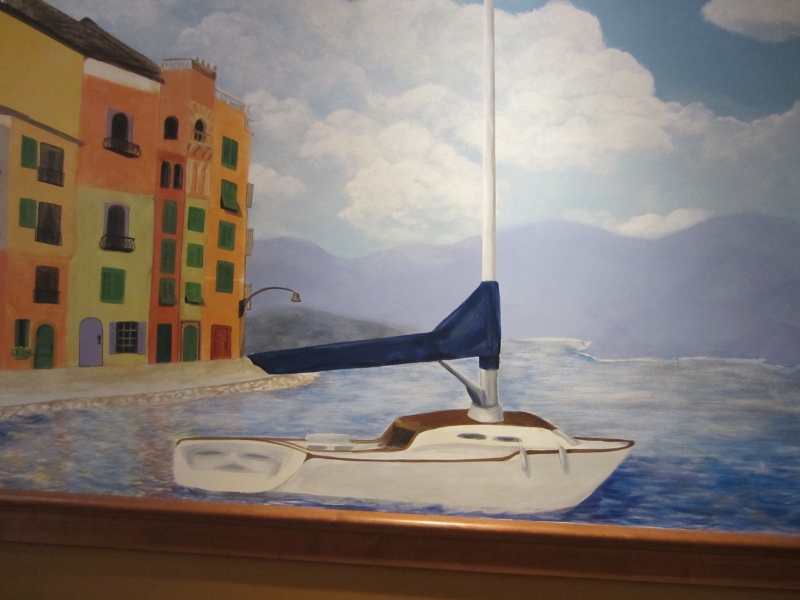 A boat bobs at anchor in the inlet from the sea.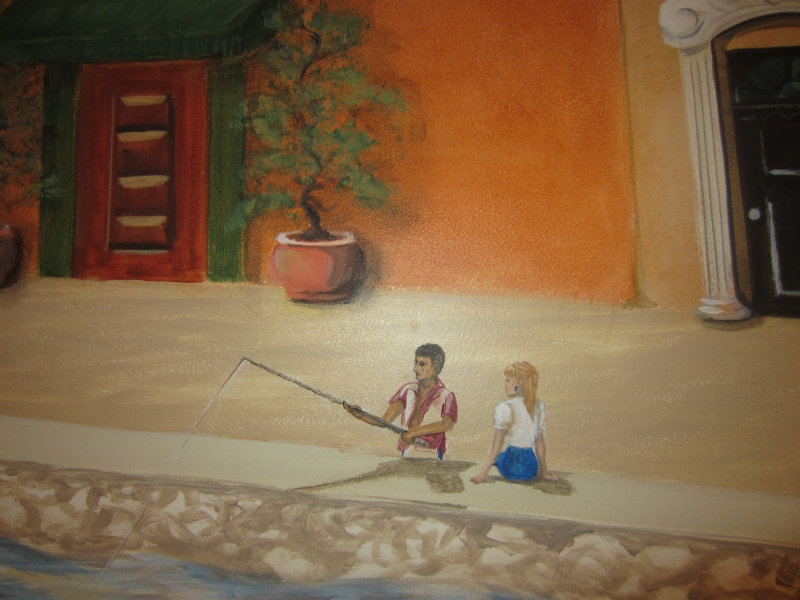 A young couple fish in the morning sun.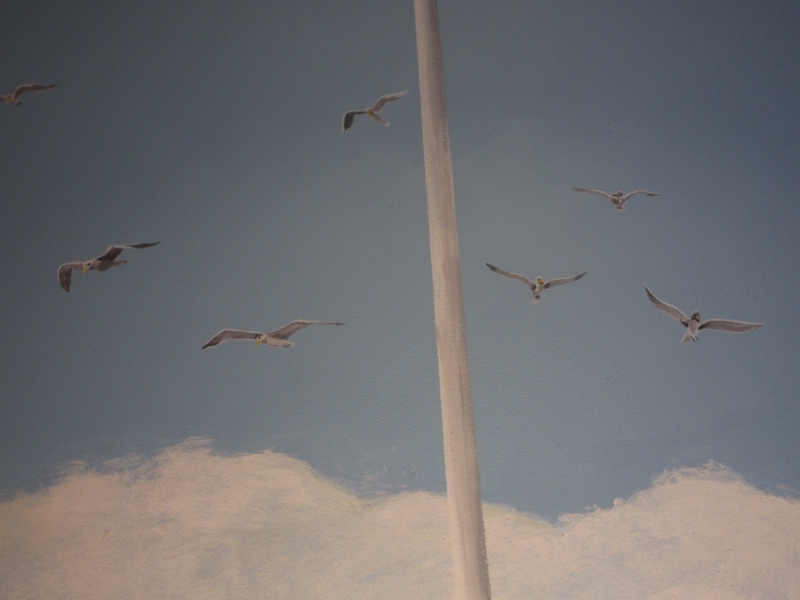 Seagulls circle the mast of the boat riding at anchor.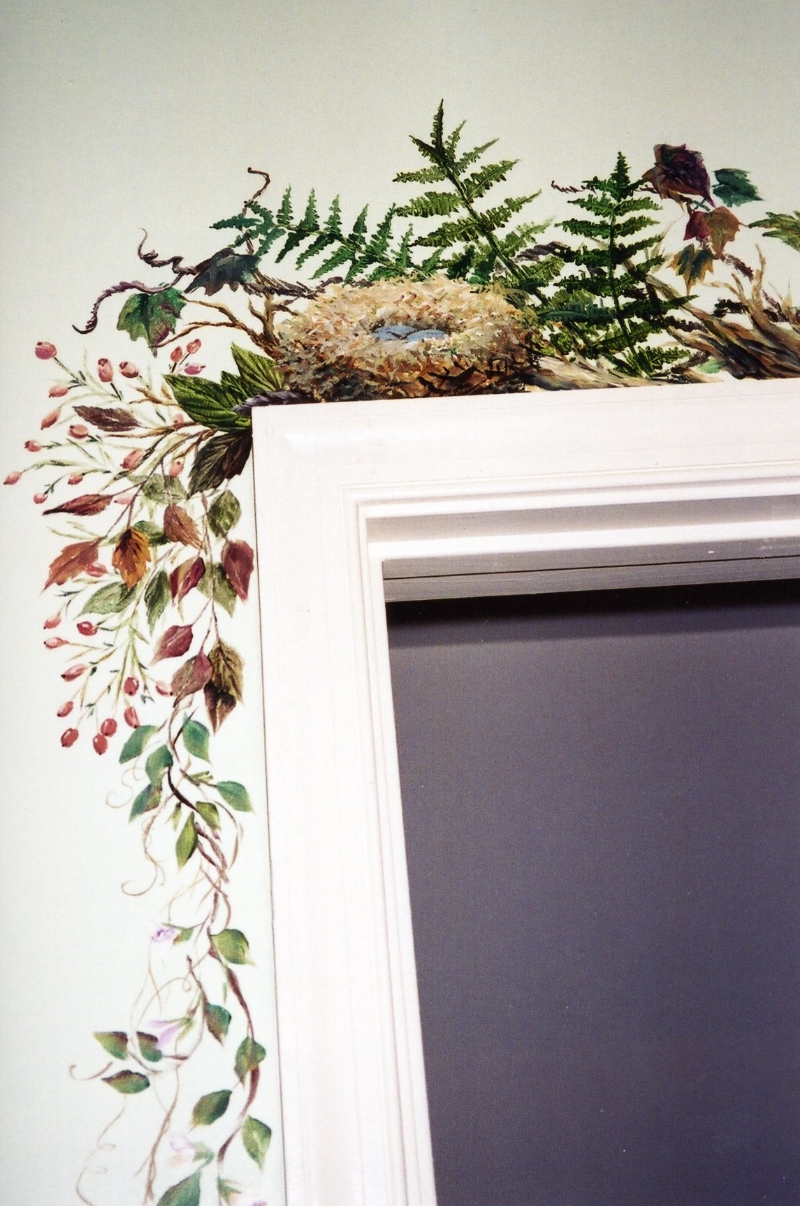 Bringing interest to a doorway...
Nature moves in with a bird's nest & eggs, ferns and cascading berry vines.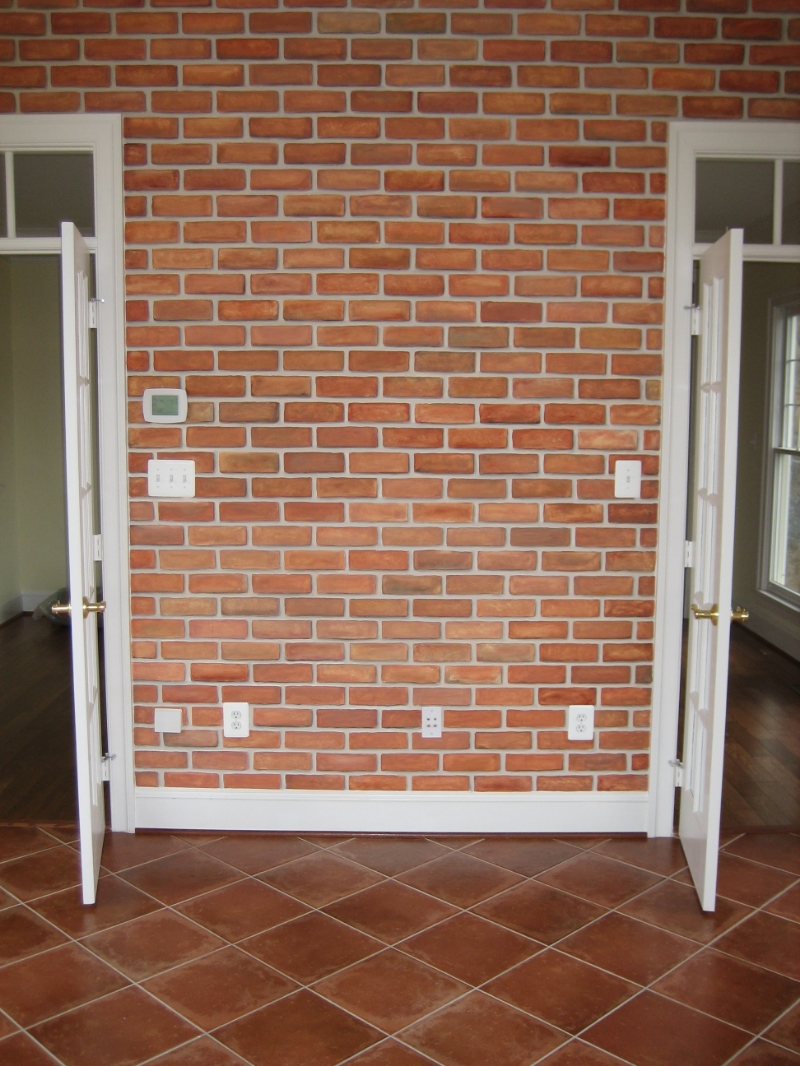 A Builder in Damascus, MD builds his own house...
His wife wanted a brick wall in this light-filled sunroom. Real brick was impractical here, so he asked me to paint bricks. "Leave all the switch plates shiny white," was his only other requirement.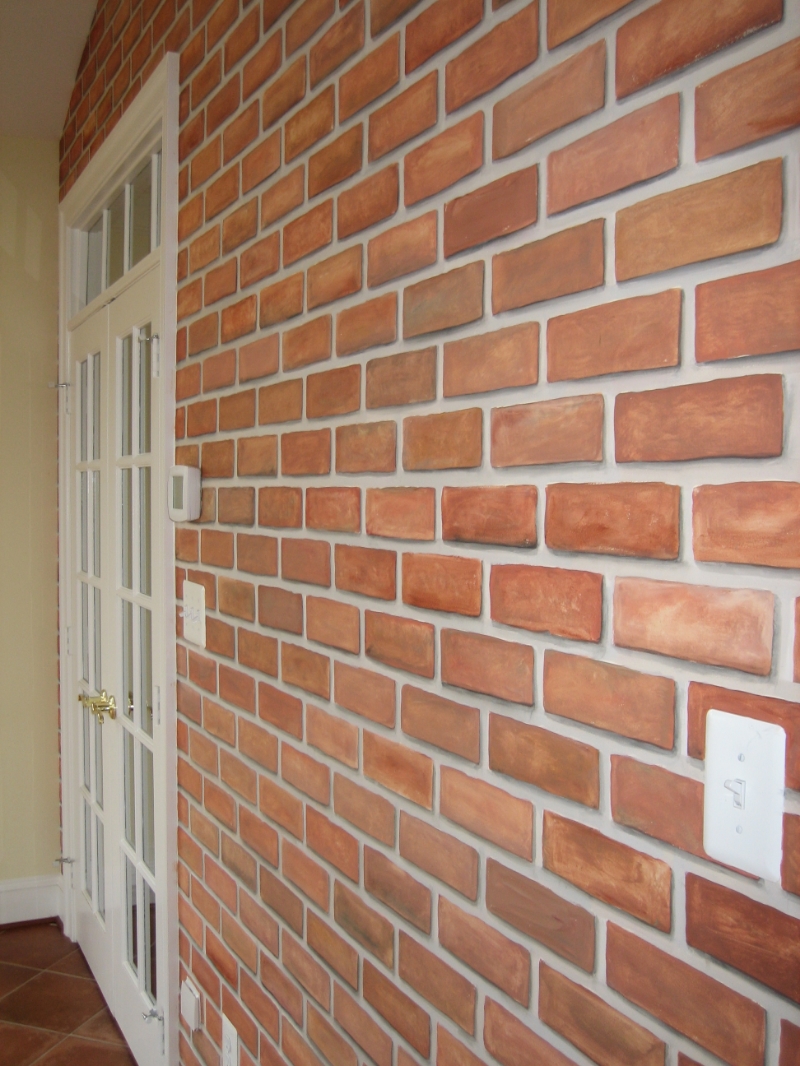 A Wall of Painted Bricks...
I love the fact that "perspective" works, whether bricks are real or painted.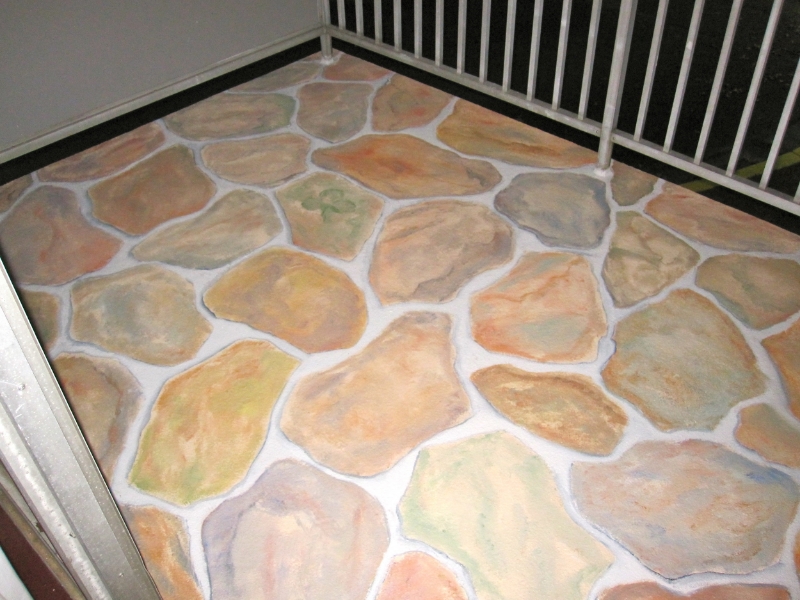 Cinderella Transformation on A Condo Balcony...
Once upon a time, this balcony was dirty, stained cement, used only for storing odds & ends. NOW, it's ready for a party!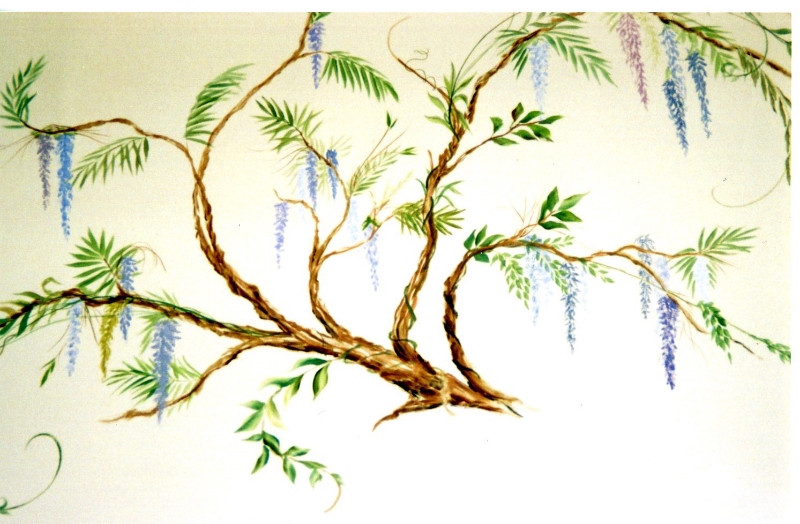 A Graceful Fantasy Branch...
...fills that awkward space below the peak of a Cathedral ceiling in an Interior Designer/Contractor's Model Home in Kensington, MD.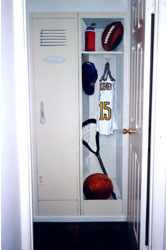 When you peek into this Boy's Room...
...the first view is always neat!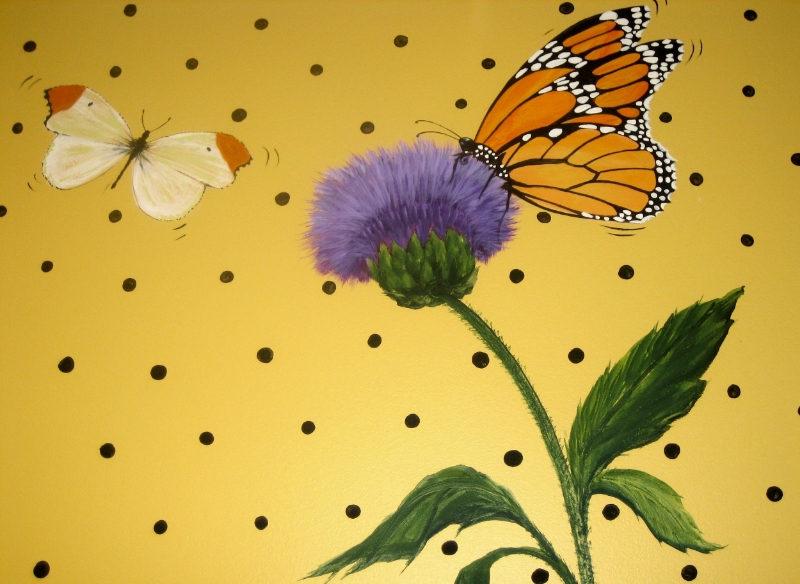 Over-sized Butterflies, Flowers and Polka-Dots...
always made you feel dainty, when you walked into this Landscape Showroom's Ladies' Room!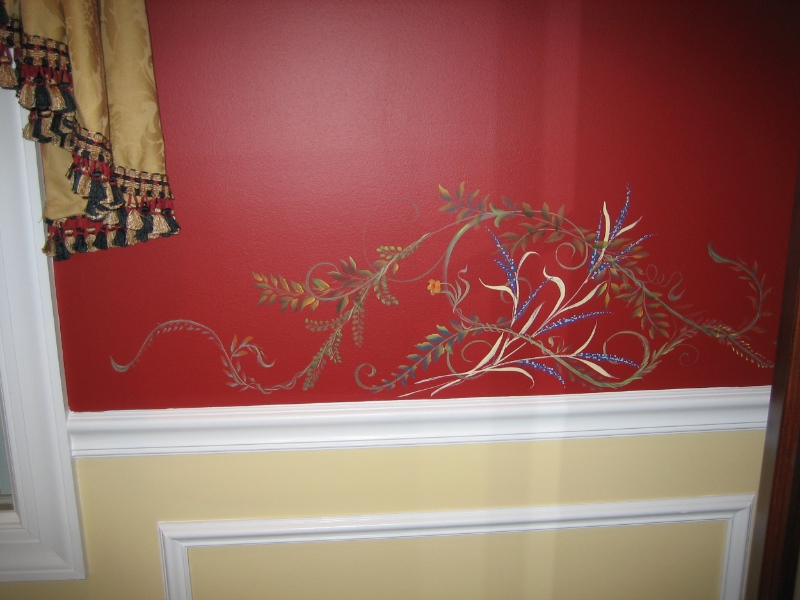 An elegant Dining Room in Gaithersburg, MD...
...that features Designer Window Treatments, lots of crisp-white wainscoting and a bold color scheme, deserves hand-painted motifs that repeat colors in the upholstery and tie everything together!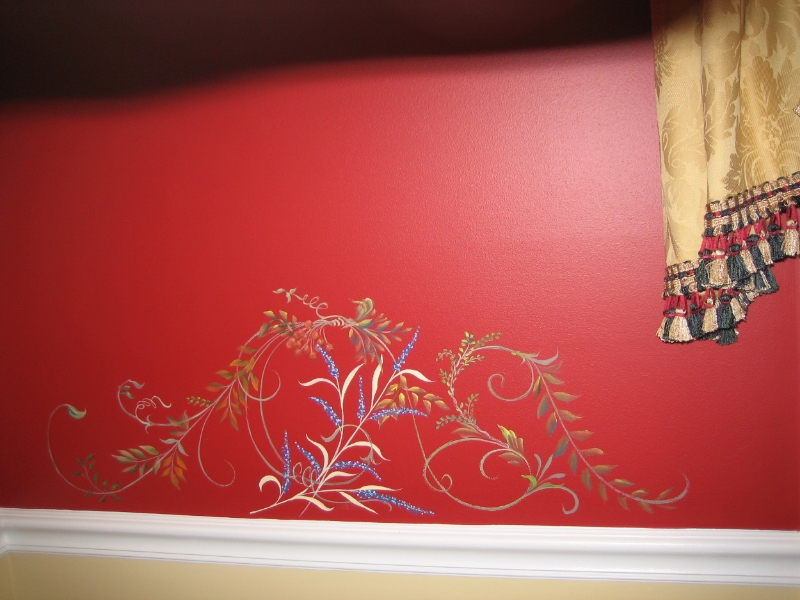 Vines grow in natural-looking, spreading patterns and multiple colors are expertly blended on the leaves.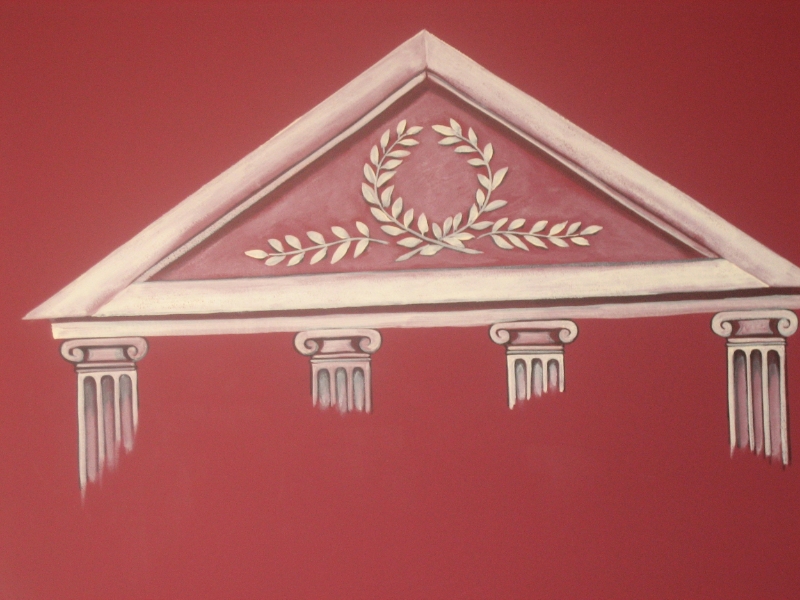 An Architect's Loft, in a Beazer Model Home...
One of three "architectural motifs" painted on the wall of this cozy, well-designed work-area, that catches the morning sun.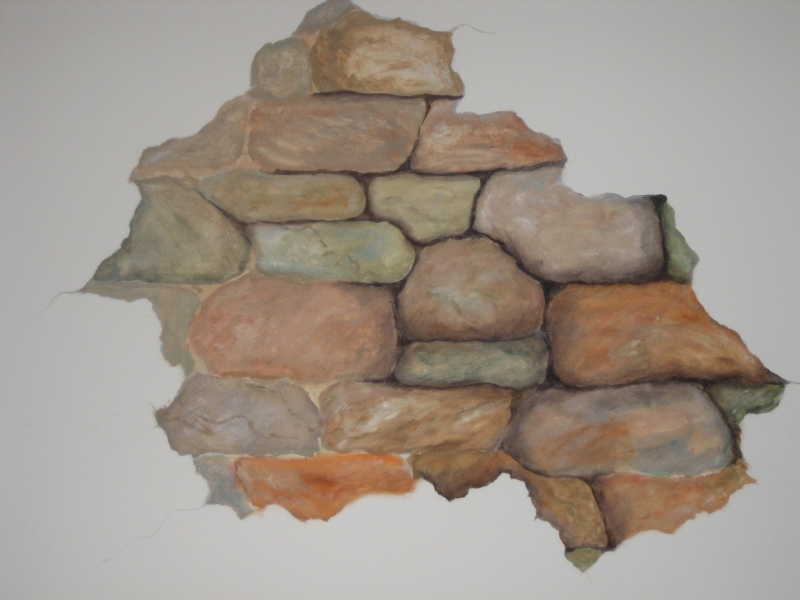 In a Massage Therapist's Waiting Room, in Frederick, MD...
Two-thirds of the way to finishing an illusion of "plaster having fallen, revealing a stone wall beneath," my customer said "STOP! I like it just like that, as though it's emerging, coming into 'being'!"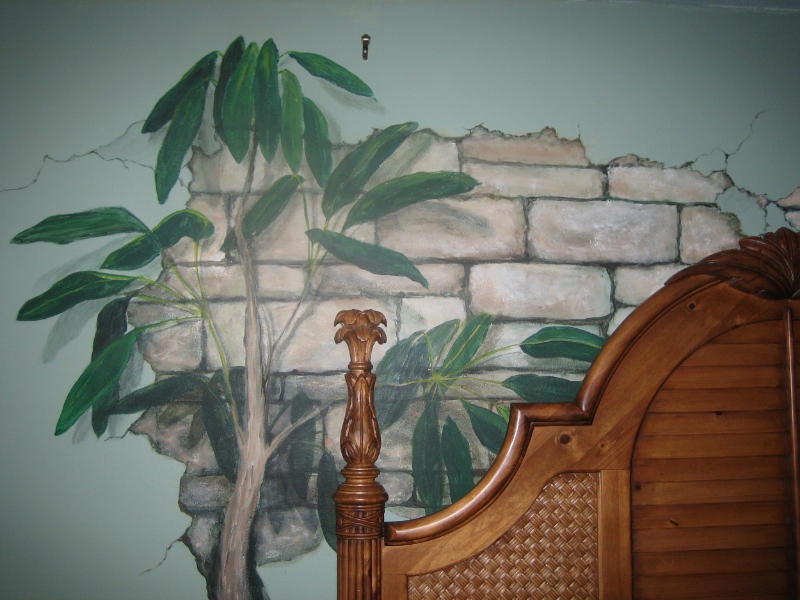 Setting a Tropical Mood, in Tampa, FL...
THIS "fallen plaster/stone wall revealed" I was allowed to finish!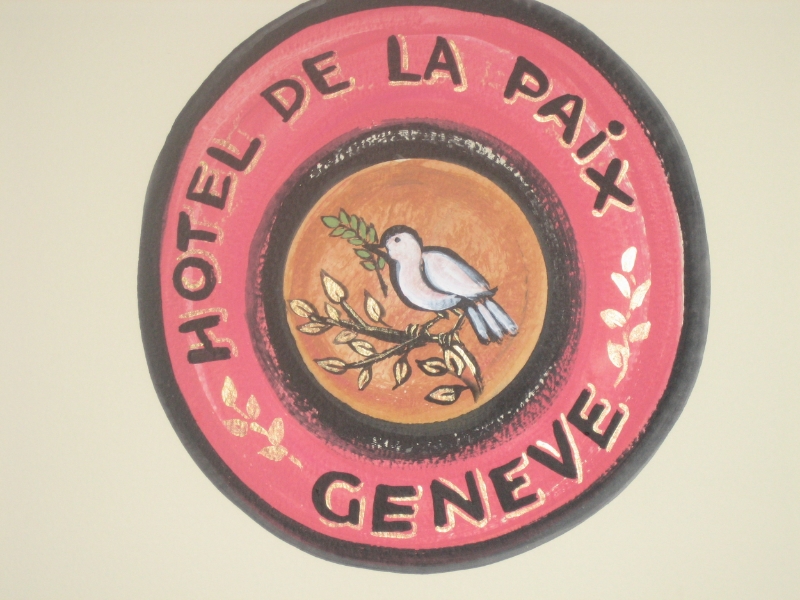 A painted "Travel Sticker," one of many...
A Model Condo of the Beazer Community in Cambridge, MD, features a bedroom with a "Travel Theme" flowing across the four walls in a spacious suite.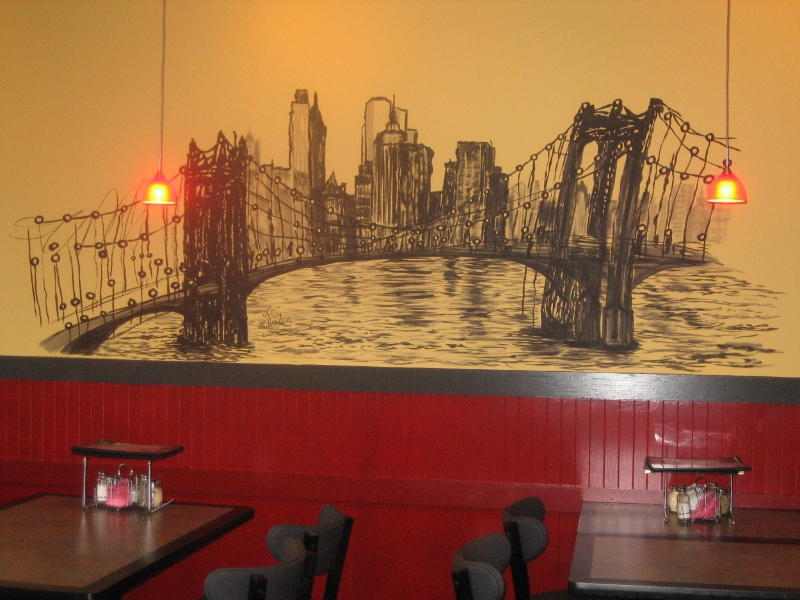 When "Broadway Pizza" in Potomac, MD remodeled...
they incorporated a tribute to NY and the Twin Towers. I showed the owner many possibilities for the wall murals, but he liked my two quick sketches of the Twin Towers and the Brooklyn Bridge on a napkin! I must admit that projected on the wall and painted in black, they are moody and expressive!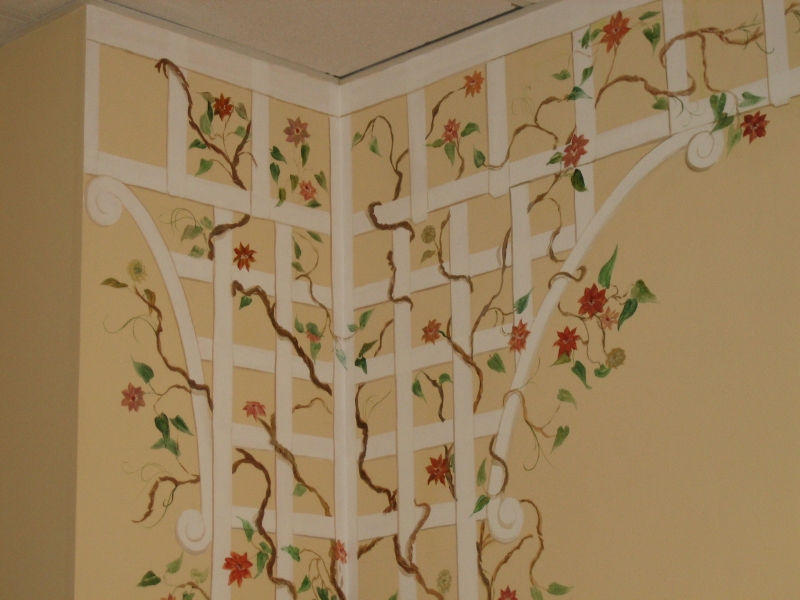 A trellis with vining flowers...
brings nature into the waiting room in a Massage Studio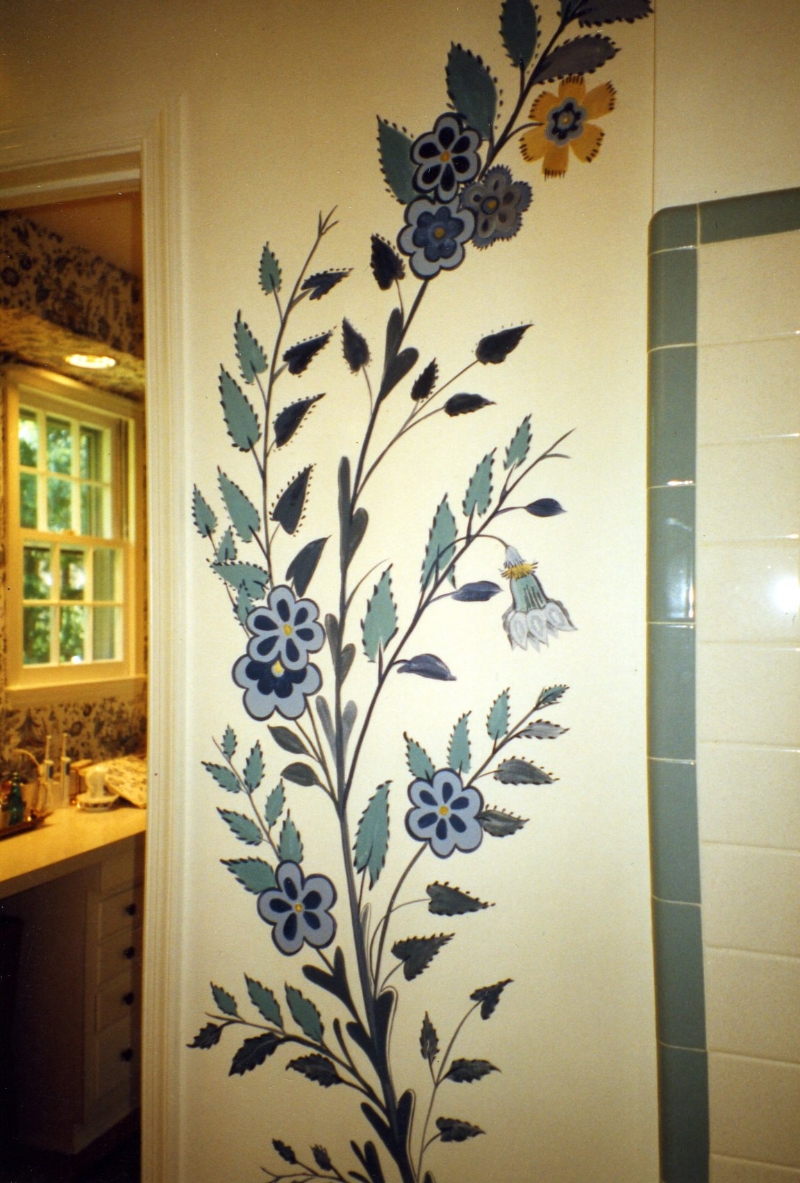 Motifs on Wallpaper in the adjacent room...
give rise to one giant matching specimen in the Bathroom.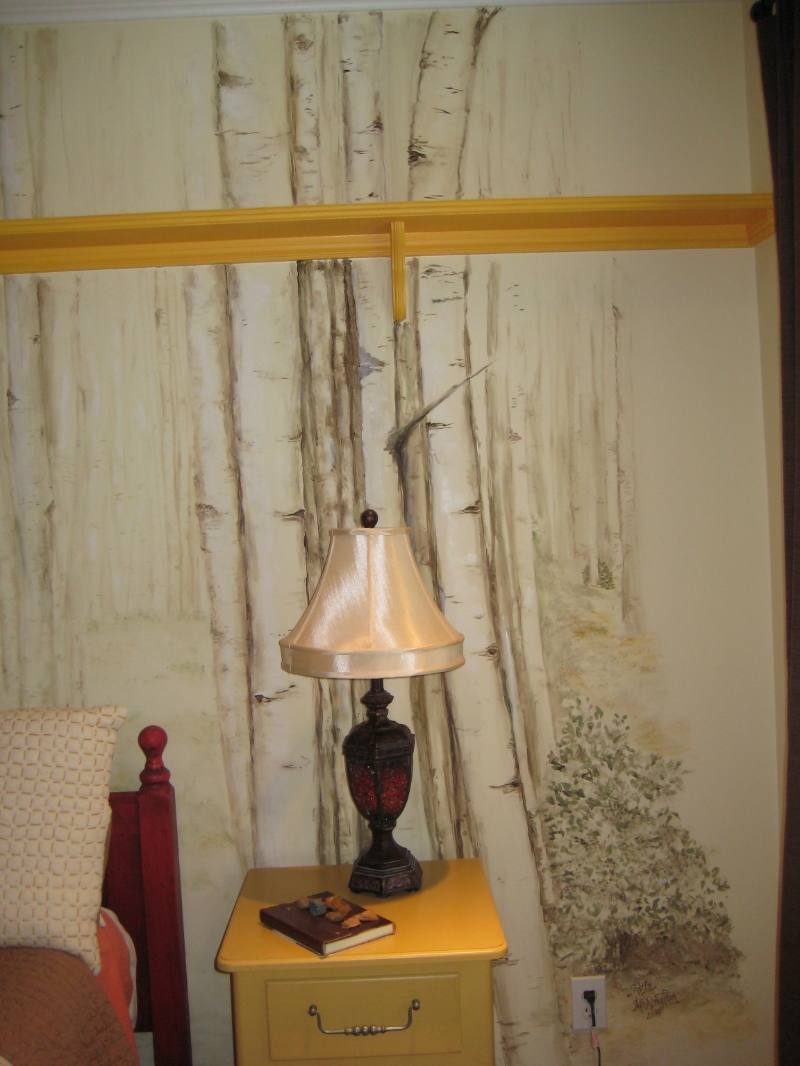 She fell in love with Aspen trees...
while at college in Colorado. At home in Potomac, MD, she sleeps in an Aspen forest!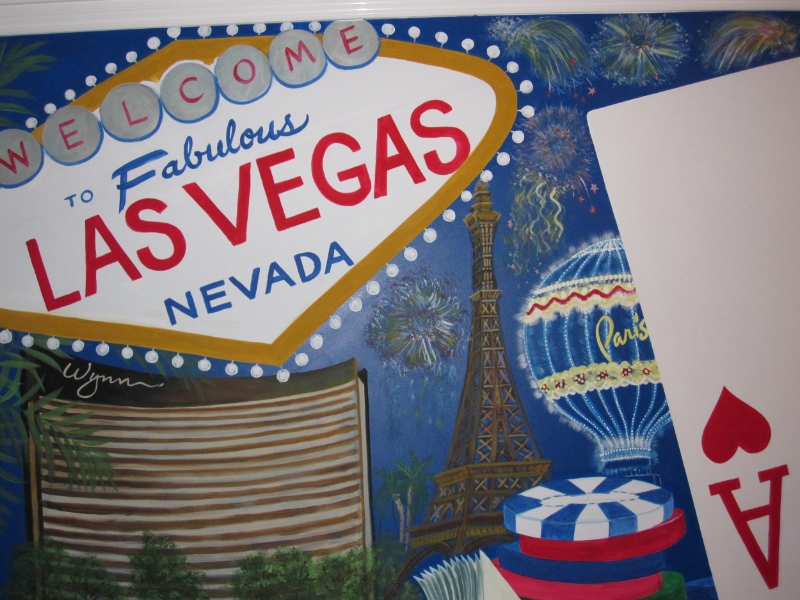 As a Birthday surprise...
Mom & Dad took advantage of their teenage son's time away, on a trip to Las Vegas, to gut and re-make his bedroom, including a wall-mounted TV and a wall-size mural of Las Vegas!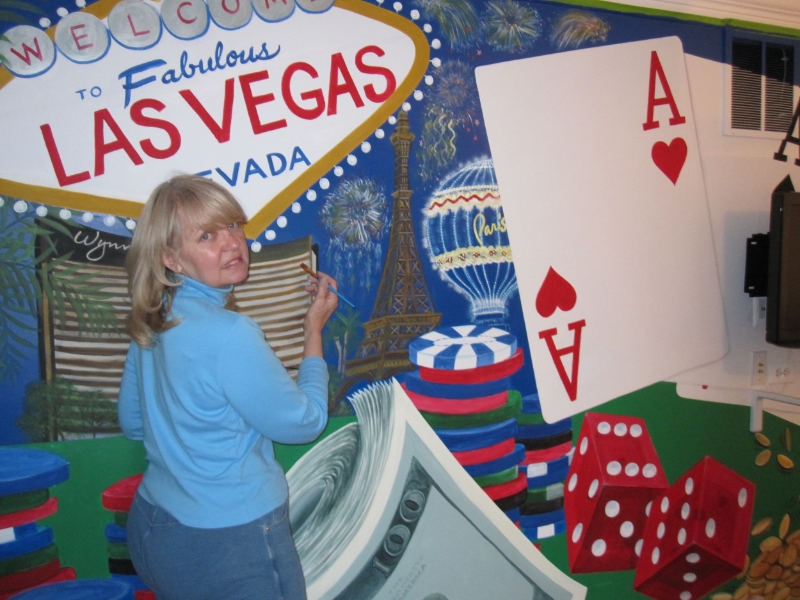 As a bit of Documentation...
These two lively parents photographed the Artist, (me!) at work on the mural.
Symbols of Las Vegas ...
Dice, Poker Chips and coins from a slot machine spill over onto each other...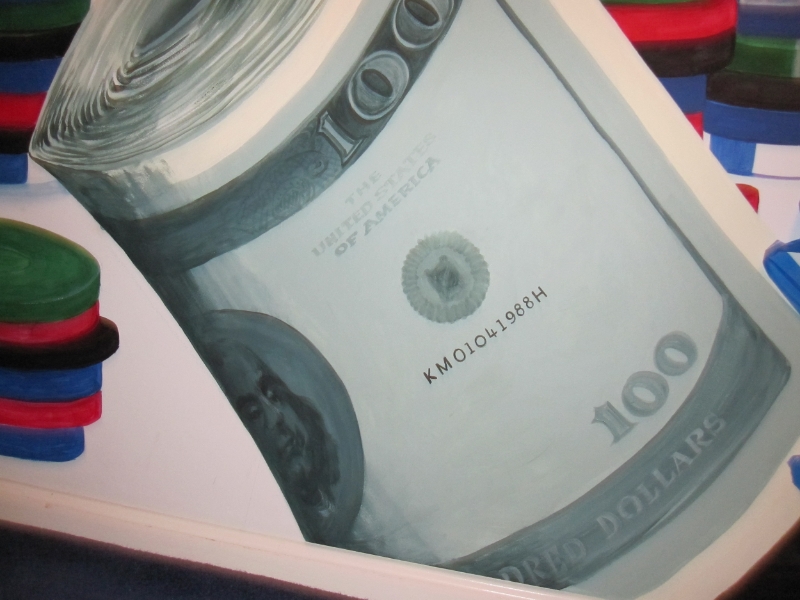 Benjamin Franklin peers out...
from a fat roll of 100 Dollar Bills...!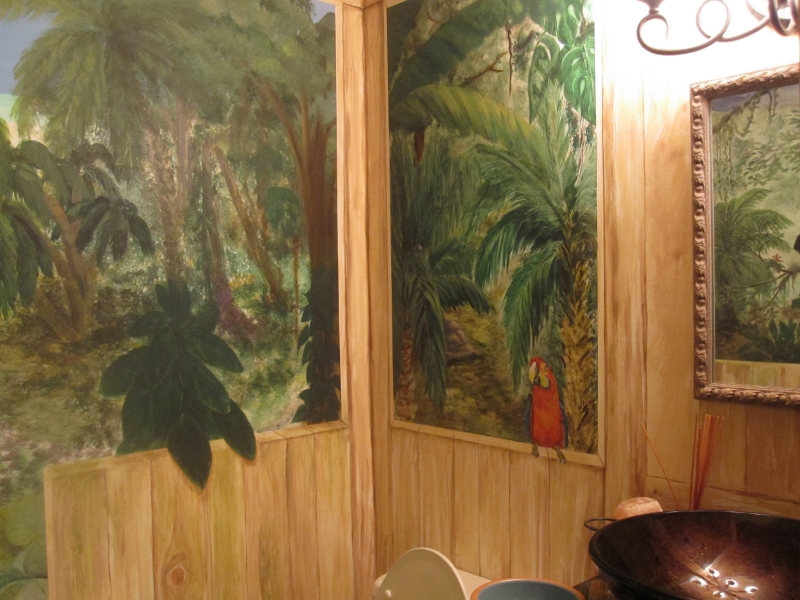 "Give us A hut in the jungle..!" the owners said.
What I started with was a renovated powder room with white walls! Now, you're never alone in this bathroom, because "wildlife" surrounds you!
While sitting on the "throne"...
...you get to look out the "window" at the jungle and a Toucan, who is probably curious about you!
To your right as you sit...
...you can look out the doorway and let your eyes follow a path through the jungle to a waterfall and the beach!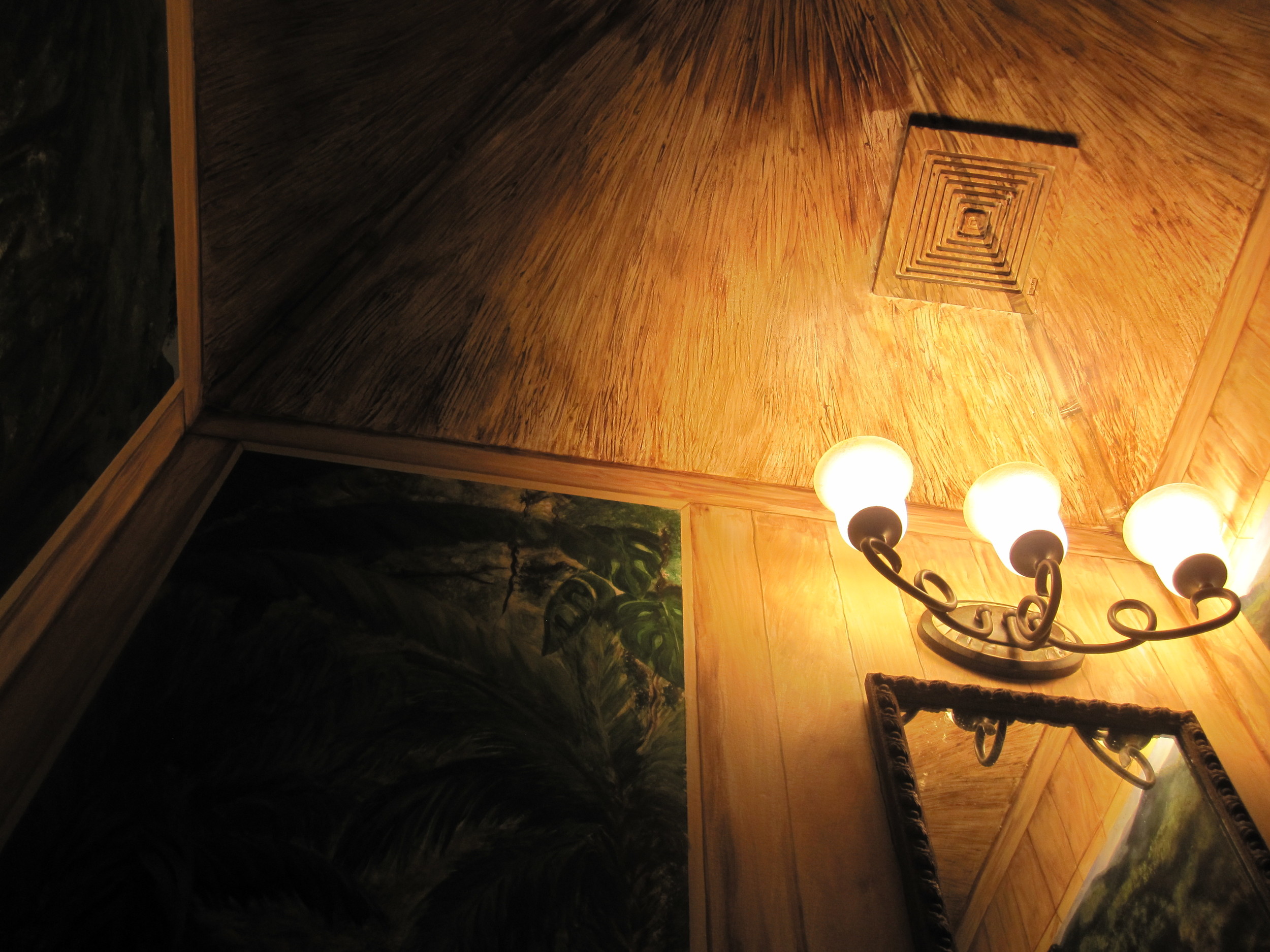 When you look up...
This hut appears to have a grass roof!